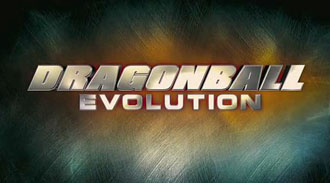 I've never read the Dragonball manga or seen the anime, but I know there's a large canon of material to work from. It's very hard to compress all this material into one coherent movie. Fanboys aren't going to be happy that certain points were left out, and new viewers will just be confused.
If that were the only problem with translating manga to movie, then this might be a decent movie, however, it's not. What looks cool in anime or manga, does not translate to live action. Who can look at Goku's hair, or his clothes and not think it looks stupid. The producers know this because there is only one short clip of Goku in his gear.
Now there are two big issues to overcome, toss in bad acting and crappy special effects and you've got Dragonball Evolution (a title that was chosen solely to generate controversy from protesting creationists methinks).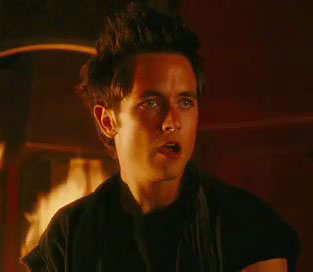 I'm embarrassed by my hair too.
The trailer opens with a history lesson from Chow Yun-Fat as Master Roshi. He tells us that the world was nearly destroyed many years ago, not by men, but by gods from the sky. Seven mystics created the seven Dragonballs to fight the invaders, and all was well with the world.
Now the signs are appearing again (McRibs available, recession, Twitter). Evil has returned. Only one chosen warrior has the power to defeat this threat, a kid with a dorky haircut named Goku. He looks awfully Caucasian to be named Goku, but the ancients foretold it would be better for the box office.
They also foretold that like in Karate Kid, he would be trained by an elderly Asian man, who would be crusty, but lovable. Goku demonstrates his prowess by beating up Mr. Miyagi while balancing on a tightrope. Take that old man!
The evil comes in the form of Lord Piccolo, yes, the evil guy is named after a small flute. Oooh, scary. He also looks like an alien from a B-movie. You think they'd spend some money on a mask that doesn't look so ridiculous, but Chow Yun-Fat doesn't come cheap.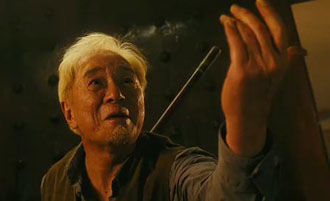 I know Kung Fu
Like all movies of this archetype the hero must complete a quest to save the world. Goku's quest is to find the seven Dragonballs before the eclipse. It might just be me, but shouldn't they have kept something that can save the world handy?
Goku will not journey alone. There's another Caucasian named Bulma, who hates her parents for choosing that name. Also, there's the stereotypical cute Asian chick who's an expert in the martial arts.
Next we get some action scenes with plenty of slow-motion shots. The characters are introduced: Goku, Roshi, Bulma and Piccolo (lol). Surprise, there's also another Asian woman who's an expert in martial arts, but she's evil (and a shapeshifter).
Mr. Miyagi and the shapeshifter mercifully end the trailer with a scene where he he knocks a throwing star out of the air with his sword and does a come hither finger movement a la Neo from the Matrix. Don't expect any originality here. You'll be disappointed.
Reviewinator

Trailer
Quicktime
Starring
Director
James Wong
Official Site
Link
US Opening

April 10, 2009

Rated
PG
Genre
Manga Adaptation
Explosions
10
Weapons
Stick, fist, feet, dragonball, handgun, sword,
Man Quotient

9.5

Trailer
Déjà Vu
Karate Kid Meets the Matrix
Geek Factor
65%
See Trailer?
No
See Movie?
No
Follow Up
Unlikely
Fun with IMDb: From the writer who was in the art department for Don't Be a Menace to South Central While Drinking Your Juice in the Hood and the star of SuperBabies: Baby Geniuses 2 comes a movie which critics are hailing for its "poorly and cheaply rendered special effects."
Ending Prognostication: Goku with the help of his trusty sidekicks, saves the world from the evil Lord Piccolo. The movie will end with a lead in to the sequel.
Conclusion on Trailer: Generic action sequences, bad special effects and ridiculous hair make this one to miss. After watching this it makes me think that only a five-year-old will enjoy it. It fails in its job as a trailer.
Conclusion on Movie: This movie will suck so hard they'll need to find some more Dragonballs to keep the Earth from imploding. Spend your time searching for them instead of going to the theater to see this piece of garbage.