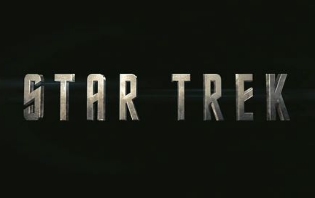 This week I review Star Trek Origins: Kirk. Technically, that's not what it's called, but from the trailer, that's what it looks like. It also flows nicely with last week's X-Men Origins trailer. Maybe, we'll be getting more "origins" movies in other series: Batman Origins: Alfred, Scooby Doo Origins: Shaggy, or Jason Statham Origins: Brick .
The trailer opens with a young James T. Kirk riding a motorcycle toward the starship Enterprise under construction. It cuts to a bar fight. An older man is talking to bloodied Kirk. He says that Kirk's father was captain of a ship for twelve minutes, and saved 800 lives. He dares Kirk to do better, and urges him to join Star Fleet.
"I want you to save 900 lives in 11 minutes," says the man.
"I can save 1000 lives in 10 minutes," replies Kirk
"Save those lives."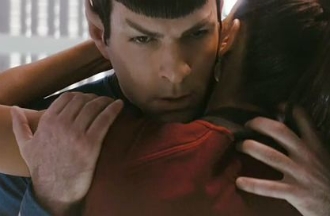 Spock gets uncomfortable
Kirk arrives sees the Enterprise. I can't wait to see this scene on the big screen. It looks great in the trailer, and the scale of the Enterprise is breathtaking. It should only be improved with a giant canvas.
We see Kirk in a graduation cermony at Star Fleet, and Spock telling him that he will experience fear. Cut to the crew parachuting out of a plane. Their target is a hovering platform. It's touch and go, but they make it.
Next we hear about the mission, which will probably be the start of the movie proper. Star Fleet has received a distress call, but it's a trap (Thanks Akbar). An evil looking guy intones that he's been waiting for this day all his life. He's been watching trains go by. Lying on the sand watching seabirds fly. Then his ship unleashes a death ray that implodes an entire planet, and he watches the people die.
Then the dramatic scene of Kirk taking command of the Enterprise. Next we get a montage of different scenes without any real context.
Now we cut back to a fight on the hovering platform. Sulu is revealed. He's ready to do some martial arts despite the stereotypes. Uhura and Scotty round out the crew.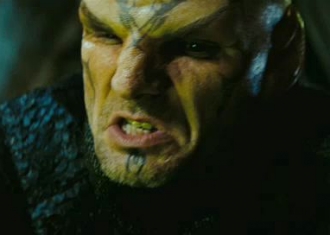 I'm not going to pay a lot for that muffler.
The trailer ends with another action montage. These look taken from the ultimate battle between the Enterprise and the guy with the tatooed face. I can only hope that it's not, but it probably is.
The trailer is dramatic. Teetering on the edge of being overly so. I hope that doesn't signal that this movie will be humorless. My fingers are crossed that they're holding back the clever one-liners for the movie.
Reviewinator

Trailer
Quicktime
Starring
Director
J. J. Abrams
Official Site
Link
US Opening

May 8, 2009

Rated
PG-13
Genre
Star Trek
Explosions
20
Weapons
Fists, bottle, phasers, planet destroyer, space ship, feet, sword, ice monster, missiles
Man Quotient

13.8

Trailer
Déjà Vu
Wrath of Khan
Geek Factor
100%
See Trailer?
Yes
See Movie?
Yes (confirmed)
Follow Up
Here
The special effects look excellent, even on the small screen. It doesn't look like any expenses were spared for this one.
Ending Prognostication: Kirk will avenge his father's death. Spock will make some droll comments. Bones will get upset with Spock. Kirk will sleep with an alien.
Conclusion on Trailer: This is easily the movie I'm most excited about seeing this year. This inspirational bit of trailer making gets me even more excited. If you want to get your juices flowing, I recommend taking a look. If you want some secrets left for the movie, then you may want to avoid it.
Conclusion on Movie: I think opinions on this one will be all over the map. Star Trek means a lot to a lot of different people. Emotions will be running high. I think it will be a good movie. Nothing spectacular, but a solid restart to the aging franchise.
Images edited on aviary.com.