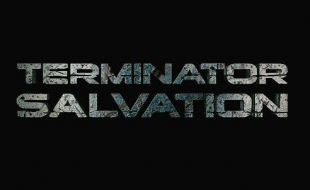 Another week, another attempt to reboot a franchise. This week it's Terminator Salvation starring Christian Bale as an adult John Connor. Instead of dwelling on the present, this trailer is set in a time after Judgment Day. A world where machines outnumber humans, and the outlook is bleak (not much different from today I guess).
For big movies like this, studios usually release multiple trailers for a film. Normally, I'll review the most recent trailer. This week, however, I chose to go with trailer #2 instead of the more recent #3. Both were good, but #2 has a line of dialog that just had to be in this review. You'll know it when you hear it.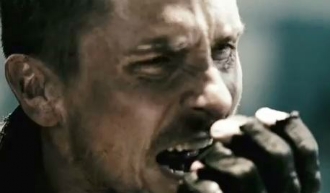 Get to the choppa!
The trailer opens with a man looking upon the desolation and asking what year it is. He's either had too much to drink or he's another pesky time traveler. He asks what happens and the answer is "Judgment Day." Apparently, Wal-Mart had a huge Judgment Day sale and things got a bit out of hand. Total social meltdown. There are no more elephants and all human life has been eradicated.
Next, John Connor, played by Christian "potty mouth" Bale, enters the scene. He's blasting bullets into the heads of endoskeletons. He doesn't know if we can win this war, and by we he means humans, unless of course in the very last movie John Connor turns out to be a machine, which would be ironic.
This is followed by the Terminatorcycles. They're chasing down a tow truck that looks like it drove off the set of Road Warrior. The cycles look cool, but every vehicle is black. I guess black is the new black in the future.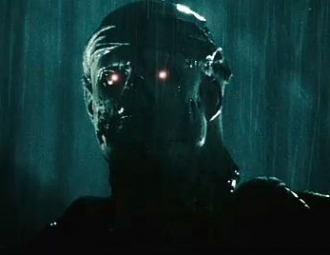 The Frankenstein Terminator
It's bright and sunny in this world. Weren't the machines supposed to block out the sun, then use us as batteries or is that a different movie? I can never keep my post-apocalyptic futures straight.
John Connor's a bit of a Debbie Downer. "Everyone has lost so much." Blah, blah, blah. What a whiner. "This isn't the future my mother warned me about," says Connor. No shit Sherlock. Your mother was a crazy loon. Why do you think she'd be right?
Interspersed with the voiceover are plenty of action scenes.
Connor faces off with a human-looking terminator. He tells him that they've been at war since they've both existed. That the terminator tried to kill his mother. And, OK, a show of hands. When John Connor says, "You killed my father." How many of you continued the line with "Prepare to die." (Fun Fact: John Connor is an anagram of Inigo Montoya)
This one advertises the sequel in the trailer with the screen text of "THE END BEGINS." The next one will have "THE MIDDLE BEGINS" and the last will have "THE END CONTINUES... OR DOES IT!"
While the trailer is full of action sequences, it doesn't seem like a dumb action movie. I just hope it Bale's morose proclamations make this a depressing film.
Reviewinator

Trailer
Quicktime
Starring
Director
McG
Official Site
Link
US Opening

May 21, 2009

Rated
PG-13
Genre
Action Sequel
Explosions
8
Weapons
Handgun, assault rifle, helicopter, termina-cycle, shotgun, endoskeletons, beefy terminator, party-sized iron maiden, fist, train wheels, gigantinator
Man Quotient

10

Trailer
Déjà Vu
Road Warrior
Geek Factor
80%
See Trailer?
Yes
See Movie?
Yes No(confirmed)
Follow Up
Here
Ending Prognostication: As I mentioned, they're advertising the sequel in the trailer, so the ending won't be conclusive. John Connor will survive, but the battle will not end as he proclaims in the trailer.
Conclusion on Trailer: The special effects are impressive. The trailer doesn't give too much away. After seeing each trailer for this movie, I've gotten more excited about it coming out, and that's the sign of a good trailer.
Conclusion on Movie: The trailer looks good, but you don't expect the fourth movie in a franchise to be a quality production. That's when you expect all the original cast to be replaced by D-list celebrities and it spends one miserable weekend at the theater before heading to the DVD shelf. I think this one will be an exception. It's got a big star in Bale and from the looks of the special effects, a big budget. Let's hope this one successfully reboots the Terminator franchise, I think it will.
5/21/09 - Unfortunately this one did not live up to my expectations. You can my thoughts on why here.
Images created on aviary.com.