Palo Alto, CA - Researchers at Stanford University have confirmed what many of us have suspected for years: that 82% of people online are assholes.
Rajit Dhamanpour, a professor of sociology at Stanford, headed the research group that conducted the study. "We ran the study over a period of three years using surveys, direct observation and other methods to gather our data," said Dhamanpour. "My hypothesis that everyone online was an asshole was disproved, but I'm still happy with the results."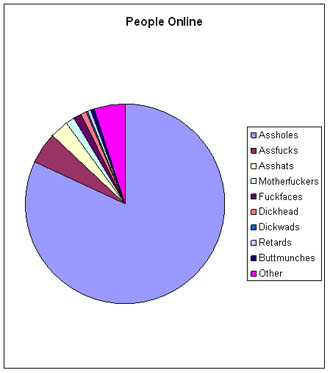 Not everyone is an asshole though. The study showed that 5% of people are "assfucks" and 3% are "asshats" (see chart). The remainder of the population was spread between a variety of other categories like "dickwads," "retards," and "buttmunches." Surprisingly "jerks" only made up 0.5% of the online population.
It's not all bad out there though. "Nice people," "kind souls," and "normals" each gathered 0.001% in the results.
Internet user Eric Burston said, "I don't know what the fuck is wrong with that dickhead (0.8%), but he obviously has been surfing on a different Internet than I have. Everyone I meet is a fuckface (1.2%), except for my clan members."
Dhamanpour said the Internet just mirrors what we find in the offline society. "You'll find a lot of assholes in your everyday life as well," said Dhamanpour. "Like just this morning I didn't go when the light turned green for one second and this asshole behind me lays on his horn."
The research might lead to more public service announcements asking people to refrain from being assholes, but a similar ad campaign in 1974 increased the asshole population by 3%.
"I'm not sure what can be done about this problem," said Dhamanpour. "If you ask me, we should just kill all those motherfuckers (1.5%)."
The study was conducted under a grant by the National Jerkwad Council and the Coalition for a Less Dicky America.