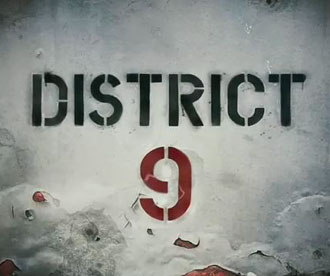 This week's trailer review is for District 9. A new aliens-on-Earth movie with the backing of Peter Jackson. It takes place in a shanty town outside of Johannesburg, which sounds an awful lot like some lyrics from a U2 song.
The trailer opens with a shot from inside a vehicle driving by the shanty town. The first thing you notice is there are no leaves on the trees. Next, you notice the giant space ship hovering over the shanty town. Coincidence?
Text on the screen tells us that the aliens arrived 28 years ago. Then it tells us that coexistence has never been easy. Then it tells us that Don King is a boxing promoter (I'm not sure why).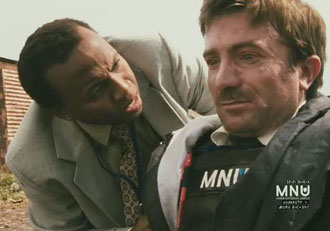 You can stop holding your breath now sir. We're going to give you the ice cream.
Next, we get some xenophobic comments from a shopkeeper. She says that the government is spending too much money keeping the aliens, when they should be spending it on humans. At least they are keeping them separate though. Hmm... Johannesburg, separation of races, I think we're talking apartheid allegory here.
A government agent asks an alien, "How do your weapons work?" The alien responds with, "We just want to go home?" The government agent responds, "OK." The end. Or is it?
We cut to a MNU (Multi-National Unit) inspector. He looks like a United Nation weapons inspector except he has MNU instead of UN on his patch. In one hut he finds something he hasn't seen before. He unearths an alien cannister. He declares it not a weapon. Of course, that means that it is a weapon . Moments later it sprays him in the face and he writhes in pain. He's not doing the Humpty Dance.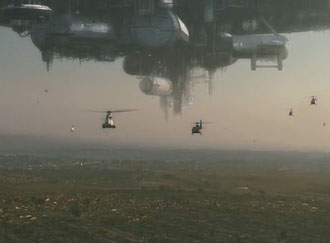 I didn't have a funny comment for this picture. I just thought it looked cool.
Heavily-armed forces move into district 9. The government decides that we've waited too long to shoot the aliens, so we start. We see lots of quick cuts of alien-human combat and human troops harassing aliens.
There's also an advanced robot in District 9. It reminds me of Dog from the Half-Life 2 game, or a prototype Autobot. He grabs missiles out of the air, and does a lot of damage to attacking humans. It's unclear whether he works for the aliens, but we only see humans attacking it.
Reviewinator

Trailer
Quicktime
Starring
Director
Neill Blomkamp
Official Site
Link
US Opening

August 14, 2009

Rated
R
Genre
Alien Invasion
Explosions
5
Weapons
Assault rifle, spray cannister, Dog, flamethrower, truck, rpg, fist, pulse weapon
Man Quotient

6.09

Trailer
Déjà Vu
The Day the Earth Stood Still
Geek Factor
60%
See Trailer?
Yes
See Movie?
Yes
Follow Up
Probably
Finally, after more quick cuts of combat, the music calms and we see helicopters rising toward the alien spacecraft. A voice says, "There are a lot of secrets in District 9."
Ending Prognostication: This one's tough, as it's hard to tell who's good and who's bad in this trailer. My guess is that humans and aliens find a way to live together, but Earth is destroyed to make way for an intergalactic expressway in the end.
Conclusion on Trailer: The trailer gives a good overview of what the movie is about without giving too much away. After watching it, I wanted to see the movie, but wasn't sure exactly what to expect. That's a job well done for a trailer.
Conclusion on Movie: There's a lot to like in the trailer, but the inclusion of a lot of themes worry me. This could easily be a preachy movie about how we all need to get along with some action thrown in to distract us. Or it could be a great movie that just happens to teach some good lessons. I'm leaning toward the first, but I'm hoping for the second.
Images created on aviary.com.