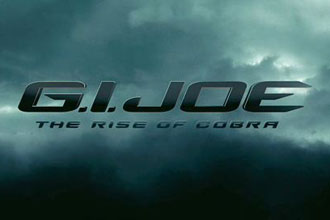 This week I review the trailer for G. I. Joe: The Rise of Cobra. A title which suggests that more G. I. Joe movies will be made. After seeing this trailer, I think the creators might be a little ahead of themselves.
G. I. Joe started as a doll, er, action figure (according to Wikipedia it actually started the term action figure), it became a cartoon and now it's a movie. I'm sure there are other variations in the Joe media empire (comic? viewmaster? daily newspaper?), but those are all I remember.
The trailer begins in the underwater command center of the evil villain. I'm sure many of you saw this and wondered how such a structure could be built under the pressures of the ocean. Or why an evil villain would go to such trouble when it would be much easier to build underground or in a mountain. Don't worry, it's only a movie.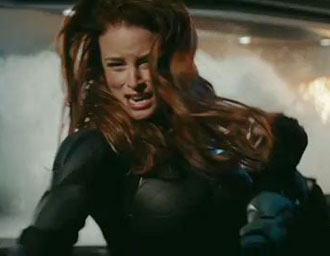 She's watching a preview of the movie
Giant burrowing machines make their way through the desert. You can see their paths clearly in the desert sand, which makes you wonder why they're underground in the first place. They burrow into another underground command center where missiles are stored. Cobra agents are inside the burrowing machines and attach a warhead to the missiles then launch them.
One of the missiles finds its way to the Eiffel Tower. The warhead contains some advanced nanogoo that eats away the supporting structure of the tower quickly. It collapses in an impressive display of special effects.
Enter Dennis Quaid. He tells of a special team of operatives being assembled. There's a quick glimpse of each of them on the screen as he talks. Here's where the trailer goes wrong.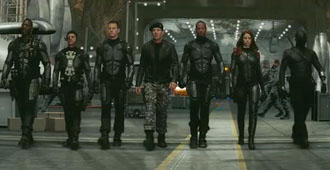 Almost as bad as walking
away from an explosion
We're introduced to the Delta 6 accelerator suits. They give whoever wears them superhuman abilities. You can survive explosions, jump off buildings onto passing planes, even avoid flying cars and land perfectly on top of another.
And then, you won't believe it. They actually show the seven of them walking abreast in perfect unison. Who the hell ever walks like that? It's old and it's tired. Let it go people.
Next we get a montage of special effect action shots, which I'm sure is what the movie will feel like once it gets going. If you like this section, then you'll probably enjoy the movie.
Reviewinator

Trailer
Quicktime
Starring
Director
Stephen Sommers
Official Site
Link
US Opening

August 7, 2009

Rated
PG-13
Genre
Action Figure-to-movie
Explosions
18
Weapons
Warhead, accelerator suit, flying vehicles, SMG, handgun, machine gun, sword, pulse rifle, cow catcher, truck-mounted missile launcher
Man Quotient

13.33

Trailer
Déjà Vu
Bad Saturday Morning Brought to Life
Geek Factor
35%
See Trailer?
No
See Movie?
No
Follow Up
Outlook not so good
Then the effect that tops them all. Two of the "Joes" are chasing after a truck in their acceleration suits. The bad girl unleashes four guided missiles at them. These guys actually dodge the missiles. It looks as stupid as it sounds. The movements are so inhuman looking that it detracts from the scene.
Ending Prognostication: The Joe team will save the world from certain destruction, but Cobra lives to fight again. OK, that's not a very bold prediction. How about this then? At more than one point in the movie you will say, "WTF!" That's probably not a very bold prediction either. How's this? The person sitting next to you (if there's anybody else in the theater) will ask you for the time then invite you home to listen to the new Fall Out Boy album. You agree then begin a long-term relationship and eventually get married, but it turns out the person is really a North Korean agent and kills you in your sleep. Good enough?
Conclusion on Trailer: A silly looking action movie that's not worth watching. Probably better than any other action figure-to-movie trailer, but that's not saying much.
Conclusion on Movie: The plot will be confusing, if one exists at all. The action will be ridiculous. The dialog will be littered with cliches. When all the other movies fail, this one will too. Avoid it.
Images created on aviary.com.