Mountain View, CA – Following in the footsteps of Apple and Microsoft, Google announced it will be opening its own line of retail stores in 2010.
Google CEO Eric Schmidt said, "We own the Internet, now it's time for us to own the real world."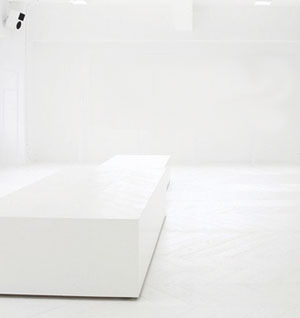 The stores' look will have a familiar feel for people who have used Google.com before.  The bright Google logo will adorn the outside of the store, but inside it'll all be white space.

The stores will not sell any physical merchandise save a few token Google logo T-shirts.  Revenue will be generated by a single employee, called the "Oracle," sitting amidst a sea of white ready to "Google it" for you for only $1.95 per search.

Google will be targeting consumers who get sent links from letmegooglethatforyou.com more than twice a week.  "Obviously educated geeks aren't going to drop by the store, but maybe their moms and dads will," said Schmidt. "Although we may have something geeks desire as well."

Before you balk at the $1.95 price for something you can do on your own for free, Schmidt assured us that each Oracle will be trained to use all advanced features of Google search of which most people are unaware.

"Oracles will have access to search parameters that normal people only dream of.  For instance, with a simple two character switch all comparison shopping sites will disappear from search results for a product," said Schmidt. "This will be the hook for geeks as they devise ways to hack our system to get at these store-only features."

Despite the moniker "Oracle," the Google store employee will be unable to tell the future, because Google has yet to make that publicly available even in their own stores.

Asked if he would be poaching employees from Apple Stores as Microsoft is doing for their new stores Schmidt answers, "Oh hell no.  We want smart people."

Google's stock was up on the news.