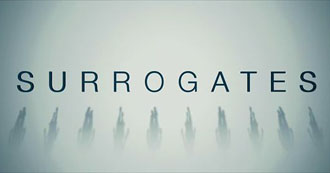 Bruce Willis stars in Surrogates, an adaptation of a graphic novel where instead of venturing out into the world, everyone sends their robotic surrogates, and why not? Surrogates are better looking, can dance better and jump higher. Plus, never having to leave your home means a much safer environment for everyone… until now.
The trailer begins with a device that many futuristic movies use: the TV ad. It explains the benefits of the surrogates, while establishing the type of world in which the movie exists. Like most TV commercials this one lasts 30 seconds, which I think eats up too much time of the trailer. It would've been better off using the "In a world…" schtick.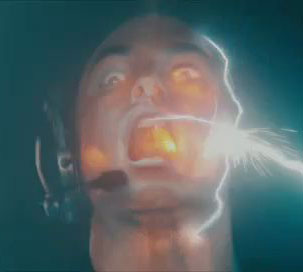 Stick around for the shocking conclusion.
As the voice-over for the commercial continues, we see a haggard and balding Bruce Wills sitting in the control chair for his surrogate. When he's fully inserted, his surrogate pops to life. The surrogate looks just like Bruce Willis, except he's younger and has a full head of blond hair.
A camera enters a night club showing surrogates having a ball of a time. A couple exits the night club to a dark alley, where they intend to put their surrogates through their paces. Unfortunately for them, a helmeted assassin awaits.
He zaps them with something, and not only downs their surrogates, but kills the users as well. The police are floored. This is the first incidence of this ever happening.
I talk to dead people.
Next, enters the element of government cover up. The police chief says that the people cannot be allowed to know that they can be killed through their surrogate. To protect and serve, my ass.
Willis interrogates the surrogate manufacturers while intertwined footage shows the toughness of the surrogates. We see Willis getting slammed by a truck. We see him with his robot arm ripped off and squirting green blood. All along the manufacturer says there's no way the murders could've happened.
Willis's surrogate crashes a helicopter, and Willis the human ends up in the hospital. His boss tells him he's lucky to be alive, especially since he only has a few days until retirement (I made that part up, but it wouldn't surprise me if it was in the movie).
Reviewinator

Trailer
Quicktime
Starring
Director
Jonathan Mostow
Official Site
Link
US Opening

September 25, 2009

Rated
PG-13
Genre
Dystopian
Explosions
4
Weapons
Assault rifle, shotgun, handgun, shockwave, truck, Kung Fu grip
Man Quotient

8.1

Trailer
Déjà Vu
Minority Report
Geek Factor
75%
See Trailer?
Yes
See Movie?
Yes
Follow Up
Probable
Now, Willis much venture into the real world without his surrogate. He encounters Ving Rhames doing a Predator impersonation. What follows is an action montage interspersed with thematic exhortations by unknown characters. "Surrogacy is a perversion," exclaims James Cromwell. "I am your wife," by Willis's wife surrogate. "We changed the world, and now you want to destroy it," by his boss.

Fun with IMDb: From the director that brought you Beverly Hills Bodysnatchers and starring Jack Noseworthy who played Dick in Phat Girlz, comes a movie from a screenplay by the man who wrote Bloodfist II.

Ending Prognostication: Willis finds a way to bring down the evil conspiracy behind the surrogate society. At the end, people will slowly emerge from their homes and shade their eyes from the sun.

Conclusion on Trailer: It goes on a bit long. The concept is cool, and the special effects are good. After seeing the trailer, I was much more interested in seeing the movie. This trailer does its job, and gets a spot on performance from me.

Conclusion on Movie: I'm pulling for this one to be good. I love Bruce Willis, so I might be biased in my interpretation of the trailer. I think this one is going to be a surprise hit. Anyway, what else are you going to go see this weekend, Fame?

Images created on aviary.com.