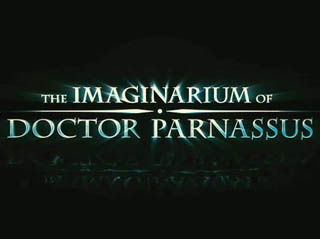 This week I take a look at the latest film from Monty Python alum Terry Gilliam: The Imaginarium of Doctor Parnassus.
Heath Ledger gave this movie a boost in the buzz department when he took a leave of absence from filming so he could die. Unable to reanimate him, Terry Gilliam chose to finish the role with different actors and some rewrites of the script. Given the non-linearity and acid-trippiness of the movie, this wasn't a problem.
This paragraph is not here by mistake. It's a short trailer (1:45 with much of that being eaten up by ratings, studio information and comments from critics), so I put this paragraph here as filler content. I wouldn't want this trailer review to be shorter just because the trailer is. See how thoughtful I am. Now, back to the review.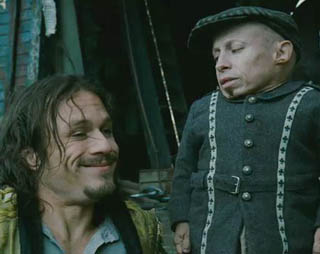 Little known fact: Heath Ledger was actually shorter than Verne Troyer.
The trailer begins with Dr. Parnassus in an ancient temple set atop the backs of elephants who are astride a giant turtle. The monks surrounding Dr. Parnassus in meditation flee in the face of the approaching devil. The devil, after imploding Dr. Parnassus's mouth, offers him a deal: Immortality for the life of any children who reach the age of 16.
Parnassus accepts the deal, because he's a big fan of Jay Leno and wants to live until the time when Jay takes over for Johnny Carson on the Tonight Show. How he knows about events that don't happen for a thousand years is a mystery for the viewer to solve.
Parnassus has a career as a travelling sideshow. He's got Verne Troyer as a tuxedoed vertically challenged man, but that's about it until...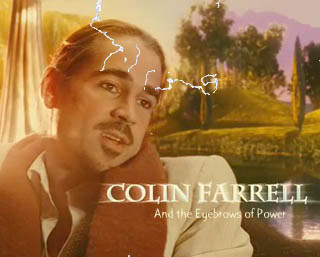 Don't mess with the Eyebrows of Power
A mysterious outsider called Tony (played by Heath Ledger, Jude Law, Johnny Depp, Colin Farrell, Tom Cruise, Taylor Lautner, Clint Eastwood and Macauley Culkin) appears. He's going to take the travelling show "beyond imagination." Beyond imagination means that the movie will recreate acid trips that Terry Gilliam took during the '60s and '70s (but in HD with better special effects).
Tony is trying to save the Doc's daughter's life, even if it means making out with a 16-year-old. The devil offers another deal (this guy needs to go to a Gambler's Anonymous meeting), the first to 5 souls wins.
Reviewinator

Trailer
Quicktime
Starring
Director
Terry Gilliam
Official Site
Link
US Opening

December 25, 2009

Rated
PG-13 (weirdness, dead actor)
Genre
Terry Gilliamness
Explosions
1
Weapons
Demonic powers, Eyebrows of Power, fist
Man Quotient

5.8

Trailer
Déjà Vu
The Adventures of Baron Munchausen
Geek Factor
55%
See Trailer?
Yes
See Movie?
Yes
Follow Up
Probable
A montage of fantastical images and amazing special effects with a pulsing chorale soundtrack runs with an interspersing of introductions of the different actors playing Tony (Casey Kasem, Ron Howard, Tony Mathers, Robert Pattinson, Roy Scheider and Rob Schneider).
Fun with IMDb: From the stars of a French Playboy photoshoot and Mumbo Jumbo comes a film from the producers of the hit 2006 comedy starring Chevy Chase and a talking goose: Goose on the Loose.
Ending Prognostication: You're kidding, right? My guess is that it's all revealed as a dream of Doctor Parnassus, and he wakes up to he's in a old folks home with John Cleese and Eric Idle.
Conclusion on Trailer: Great colors and sounds, but it's hard to tell exactly what's going on. Sometimes trailers give too much away, but this one doesn't fail in that respect. I almost wish it told us more.
Conclusion on Movie: If you're a fan of Terry Gilliam, then you should go see this one. I have a feeling a lot of young ladies will go see this one and leave the theater feeling very confused. For more thoughtful audience members, this one should be entertaining.
Images created on aviary.com.