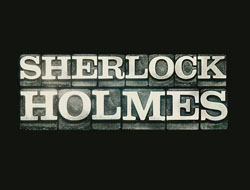 Hollywood continues to reboot franchises this week with a retooling of Sherlock Holmes. Instead of the pipe-smoking conservative detective, Robert Downey Jr. plays a depraved, frisky action star version of the character.
The trailer opens with the introduction of the villain, Lord Blackwood, a Stanley Tucci lookalike, and the hero, Sherlock Holmes. A gravelly voice tells Holmes that the world as he knows it "will end." Apparently, Hitler discovered a time machine and has come back to the Holmes Age to wreak some havoc. Just a guess on my part, but pretty intriguing I think.
Then we see an acrobatic Holmes dodging bullets and jumping out a castle window into the Thames. This shot showcases the beautiful cityscape present throughout the trailer.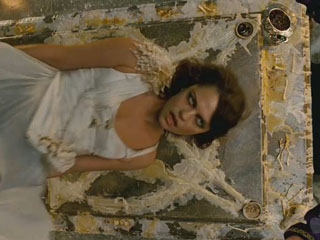 Looks more vampire than zombie
to me, but what do I know.
Lord Blackwood has arisen from the dead, or at least that's what some uneducated chimney sweeps said (re: Mary Poppins and Zombies). The authorities want him stopped before we get the Left 4 Dead: The Victorian Age version of London, or if my Hitler theory is correct, the start of World War 0.
Next we meet Watson, played by Jude Law. He's a door and ass-kicking sidekick. He's a closeted homosexual with a latent lust for Holmes. It really gives this movie the modern touch.
After that, Hollywood kicks in. Sherlock Holmes twirls billy clubs and puts ninja moves on an assailant. A ripped Sherlock Holmes battles a Goliath in the bare-knuckled boxing ring. A suave Sherlock Holmes gets kneed in the nuts by a slutty Rachel McAdams. Hitler leg sweeps a bare-chested zombie Lord Blackwood. It's all in there, I swear.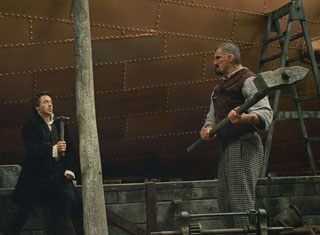 Now that's a hammer!
An action montage introducing the stars follows and leads into a classic Crocodile Dundee situation. Holmes wields a hammer, but his giant opponent wields a +6 Ogrehammer of Smashing. If "That's not a hammer" doesn't go through your head, then you probably didn't grow up in the 80s.
After the short pause for the Dundee shtick, another action montage with booming orchestral music plays us out into the title. Of course, it concludes with a short comedy scene with Watson punching Holmes in the face. Then Hitler does a Moulin Rouge style dance number with Madonna for the closing shot.
Reviewinator

Trailer
Quicktime
Starring
Director
Guy Ritchie
Official Site
Link
US Opening

December 25, 2009

Rated
PG-13 (for myth destruction, whiskers)
Genre
Classic Revamption
Explosions
2
Weapons
Gun, knife, billy clubs, fist, foot, hairpin dagger, knee, "That's not a" hammer, "Now that's a" hammer
Man Quotient

5.8

Trailer
Déjà Vu
From Hell
Geek Factor
25%
See Trailer?
Yes
See Movie?
Yes
Follow Up
Probable
Ending Prognostication: Holmes will cleverly uncover the truth, and make London safe once again for the general populace. Hints at a sequel will definitely present for this one.
Fun with IMDb: The executive producer of The Adventures of Pluto Nash and The Dukes of Hazzard brings you a movie featuring the stars of Wrestlemania XIV and Star Wars Episode I - The Phantom Menace.
Conclusion on Trailer: The world of Sherlock Holmes looks fantastic, except for the obvious green-screen background in the final punch scene. A grittier Sherlock Holmes and more action make this trailer worth watching.
Conclusion on Movie: This will be a smart action movie with plenty of mystery and suspense. Choosing Downey Jr. as the darker, grittier Holmes seems like a great choice. I'm hoping this one will be successful, as it would be nice to have a successful movie franchise not based on a comic book.
Images created on aviary.com.