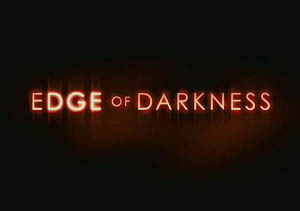 This week I review the dramatic thriller Edge of Darkness, which is his first time in front of the screen in several years for Mel Gibson. This time he plays a veteran police detective that operates outside the law because of the death of a woman in his life. This is no Lethal Weapon. Mel is on his own this time, and he's much more serious.
The trailer opens establishing Mel as a loving single father of an adult daughter. The music and dialog makes you feel like you're in a Hallmark commercial. His daughter calls and says she's coming home for a visit. He meets her at the train station, and they exchange a touching moment.
The music turns ominous, so we know we'll soon need a sympathy card from Hallmark. Soon enough, Mel's cradling his dying daughter in his arms. He's not handling it very well. His boss starts to get worried.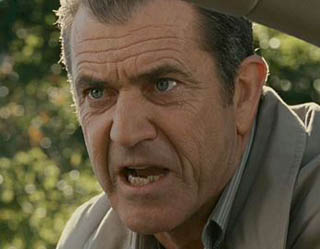 "I'm not a very pleasant man"
The news reports speculate that the intended victim was the homicide detective, but like always, they're wrong. The killer killed the right person.
A mysterious man with a thick accent shows up in Mel's backyard with information on who shot his daughter. This leads Mel to his daughter's employer. He's told that what she did was classified.
Apparently, Mel didn't know his daughter very well, because she was flagged as a possible threat to the USA. Of course, these days that probably means that she pirated movies on the Internet, or wrote unauthorized fan fiction.
A brief interjection here to note that everyone talks in a thick Boston accent, which is annoying to everyone except people from Boston.
Reviewinator

Trailer
Quicktime
Starring
Director
Martin Campbell
Official Site
Link
US Opening

January 29, 2010

Rated
R (for killing people and swearing)
Genre
Thriller
Explosions
0
Weapons
Handgun, fist, knife, taser, assault rifles, wrench
Man Quotient

3.4

Trailer
Déjà Vu
Payback
Geek Factor
3%
See Trailer?
No
See Movie?
No
Follow Up
Unlikely
Next we get an action montage with Mel beating up a lot of people, interspersed with standard thriller dialog. After the title flashes we get a hilarious line for those who know Mel Gibson's history. He says, "You better decide whether you're hangin' on the cross, or banging in the nails." WWJD?
Fun with IMDB: From the stars of After MASH and Hard Rain comes a film by the producers of Win a Date with Tad Hamilton and The Hour of the Pig.
Ending Prognostication: Mel gets his revenge on the top bad guy in a very dramatic way.
Conclusion on Trailer: It's a standard thriller trailer with not much to see. Unless you miss seeing Mel Gibson on the screen, then you can probably skip this trailer.
Conclusion on Movie: This one appears to follow the standard Mel Gibson formula, right down to people being nailed on the cross. Being released in January doesn't give me much hope that this one will be any good.
Images created on aviary.com.