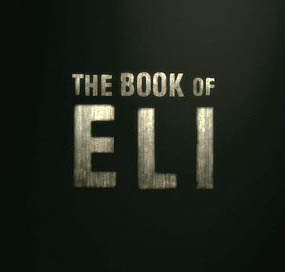 This week I take a look at the latest Hughes brothers' film called Denzel Washington Kills People, wait I've got that wrong, it's The Book of Eli. I like my title better.
How does Denzel kill people? Mostly with his bad-ass knife, but he doesn't limit himself like MacGyver does.
A more important question is when and where he kills people. He does it thirty-one years in the future, after a nuclear war has left the world in a post-apocalyptic state (read: Ohio).
The opening scene establishes the post-apocalyptic world. We then see Denzel walking alone down a deserted highway with only his pack and weapons on his back. A gang of post-apocalyptic hooligans (and we know they're post apocalyptic because they're wearing weird glasses and gas masks, and are carrying unconventional weapons (not guns) like chainsaws and hatchets) emerges from the bright sunlight.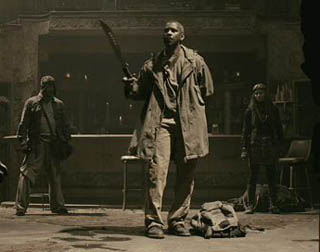 "Say hello to my little friend."
He's clearly outnumbered, but Eli (Denzel) doesn't look worried. The leader of the hooligans pushes him on the shoulder and tells Eli to give him his pack.
"Put that hand on me again and you won't be getting it back," says Eli. The movie is named after him, so if I were the hooligan I'd listen. He doesn't.
True to his word, he chops off the guy's hand, then uses his fighting skills of enormous magnitude to destroy the rest of the gang.
Eli is carrying a book that is the key to the survival of humanity. A quick few shots show that the book is the Bible. I'm really hoping that there's more to it than that, because that is laughably ridiculous.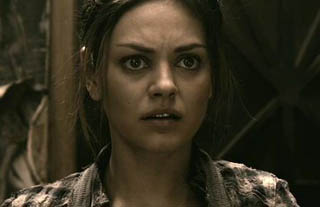 "You're not going to kill me too, are you?"
After the scene establishing Eli as a bad ass, the trailer switches to a dilapidated town run by Gary Oldman. He wants the book, and he's willing to kill to get it. Unfortunately for him, he missed the scene where Eli killed a bunch of people. I feel sorry for his minions.
Mila Kunis follows Eli out of town and he kills her too. Not really, she asks Eli to teach her the way of the post-apocalyptic bad ass. He obliges. She becomes his sidekick, helping him protect the book and provide Eli with a moral choice at the end where he has to decide whether to save the book or Mila. Don't worry, he'll find a way to save both.
Reviewinator

Trailer
Quicktime
Starring
Director
Albert Hughes
Allen Hughes
Official Site
Link
US Opening

January 15, 2010

Rated
R (for killing people and swearing)
Genre
Post-Apocalyptic
Explosions
5
Weapons
Nuclear bomb, sword, chainsaw, bat, hatchet, pipe, pick-axe, handgun, shotgun, chair, RPG, grenade, machine gun, assault rifle, bow and arrow, fist
Man Quotient

7.2

Trailer
Déjà Vu
The Road
Geek Factor
30%
See Trailer?
Yes
See Movie?
No
Follow Up
Likely
The last minute of the trailer is filled with standard issue action-trailer music and an action montage mostly consisting of Eli killing people.
Like most post-apocalyptic trailers this one has washed out colors, that make it look like it was filmed with a sepia filter in front of the lens. It's one trend in film that I wish would end.
Ending Prognostication: Gary Oldman dies, Denzel Washington lives. The Book of Eli turns out not to be important because it's a Bible, but because there is a map or nuclear codes inside the book.
Fun with IMDb: From the wife of Robert Downey Jr. and the producer of Dude Where's My Car, comes a film with the stars from Kuffs and Ninja Cheerleaders.
Conclusion on Trailer: The trailer is wall-to-wall violence. The stunts look well done, and the setting looks post-apocalyptic. Denzel Washington as a bad ass is appealing enough to make it worth a download.
Conclusion on Movie: I'm all for violence in movies, but it looks like it's all this movie has going for it. Denzel Washington is fun to watch, but I don't think he'll be able to make this one worth spending big bucks to go see.
Images created on aviary.com.