Cupertino, CA - Over the last few days Apple has been cleansing the App Store by removing any application that may feature swimsuits, skin or anything else that might be considered arousing. After a brief pause on Sunday, Apple expanded their criteria and began removing apps that contain shoes, animals, children and fart noises.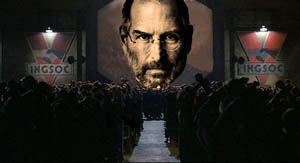 Apple representatives did not issue a statement, but conversations with a developer of the Zappos.com iPhone app, who wished to remain anonymous, revealed the reasoning behind the new round of removals. He said that Apple realized they were only removing apps that may arouse people with normal sexual desires, but they were missing all the apps that aroused the large number of fetishists. He said the Apple rep told him, "We should be punishing the sexual deviants too."
Other apps removed by Apple in this round included: Learning the ABC's with Goofy Goose (animals), Virtual Whip Crack (S & M), and Circus Fun (clowns).
Developers who depend on the app store for most of their income were furious with the move. Warren Devereaux, who developed the popular Fruit of the Day app, said, "They're just taking money out of my pocket with no warning. What's next? Removing R-Rated movies from the iTunes store? Games with people? Apple has become the Big Brother they famously destroyed in their ad."
No app developer we talked to felt their application was safe from the whims of the Apple morality police, and many were working on versions that they hoped would be safe under the changing rules. A rep from NFL 2010 developer Gameloft said the company would be creating a version that replaced players with squares and circles. "No one could possibly be turned on by that, could they?"
There is speculation on the reasoning behind the removals, that these apps are duplicating services already available on the iPhone and iPod Touch. "Maybe they think the iPhone should be enough of a turn on for anyone," said Devereaux.
Stay tuned for more news on this developing story.