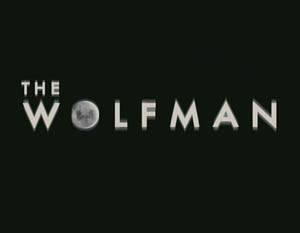 It's hard to find a movie with werewolves that doesn't also have vampires in it, so I was glad to see that The Wolfman appears to be vampire-free. I prefer to partake of my lycanthropy without having to endure those stuck up vampires.
This movie is a remake of the 1941 classic with Lon Chaney and Bela Lugosi, and follows the same general plot line.
The trailer opens with a man being gutted by a werewolf, at least that's what you can infer from the growls and the title of the movie. A crazy man tells a group of gentlemen about the werewolf. How it can't be killed by buckshot. How silver bullets are the weapon of choice. How to keep a pound of raw bacon in your pocket in case you're attacked.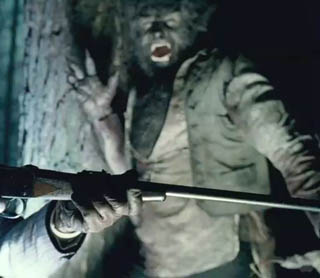 LOL, you're shooting the wrong way!
Benicio Del Toro plays Lawrence Talbot, a man who returns home to find his brother killed by some sort of beast. The father, played by Anthony Hopkins, describes how he found the brother torn to pieces in a ditch. Gee thanks, dad. I really needed to hear that.
Hugo Weaving! Hugo Weaving! Hugo plays a Scotland Yard detective and tells Lawrence that he's in mortal danger (Lawrence is in danger, not Hugo, who could never be in danger due to his omnipotence and immortality acquired in previous movies).
Lawrence ignores the warning and goes a-huntin' him some werewolf. Unsurprisingly, he gets attacked and contracts a touch of the lycanthropy. The villagers are not amused. They come to the estate with torches and pitchforks (Frankenstein breathes a sigh of relief that they aren't after him this time).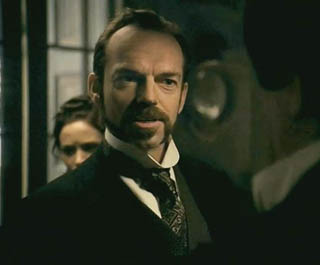 My moustache will save you.
Lawrence gives himself up to the authorities. They beat him and do a bit of pre-Guantanamo waterboarding. When that doesn't work, they put him on trial. I'm sure the judge would like to smack the clerk who scheduled the trial during a full moon. What a moran (intentionally spelled incorrectly, please don't email).
The Wolfman does his thing and escapes from the courtroom. What follows is an action montage with pounding chorale music, which is typical of a movie set in this time period, which ends with the Wolfman howling at the at the full moon from a spire atop London town.
Reviewinator

Trailer
Quicktime
Starring
Director
Joe Johnston
Official Site
Link
US Opening

February 12, 2010

Rated
R (for the power of 3 wolves and the moon)
Genre
Classic Monster
Explosions
0
Weapons
Shotgun, rifle, teeth, claws, revolver
Man Quotient

1.6

Trailer
Déjà Vu
Underworld
Geek Factor
20%
See Trailer?
Yes
See Movie?
No
Follow Up
Possible
Oh, and did I mention there's a woman involved. From what I can deduce, she's the wife of the brother who died at the beginning of the trailer. It seems she has a thing for werewolves, which could prove to be fatal as we see her being chased at the end.
Fun with IMDb: From the stars of What Rats Won't Do and Wendy Cracked a Walnut comes a film with Richard Manlove reprising his role as a stand-in from The Dark Knight and The Boat that Rocked.
Ending Prognostication: I'll hazard a guess and say that silver bullets have something to do with it.
Conclusion on Trailer: The special effects department looked like it had a big budget, and did well with it. The trailer gives an awful lot of the plot away, but it is a remake, though I doubt many have seen the original. This one is worthy of a download.
Conclusion on Movie: The performance by Del Toro in the trailer makes me a little worried, but the inclusion of Hugo Weaving assuages some of those fears. Great movies aren't released in the middle of February though, and that makes me think this one isn't so good. I'd avoid it for now unless you want to see werewolves without vampires sucking away all the fun.