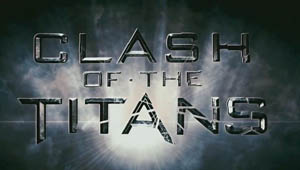 This week I take a look at the remake of the 80s classic Clash of the Titans.
The trailer opens with a lightning flash. Then a beautiful woman dressed in Greek garb addresses the leaders. She says, "Have you seen what's happening out there? Have you even bother to look?" They respond, "We don't know what's happening outside, but in here there's some really bad acting going on."
We get to see what's happening outside. There are harpies shooting out of the water, and giant scorpions attacking people in the desert. We get quick shots of Zeus, played by Liam Neeson, and Hades, played by Ralph Fiennes. Both look more like homeless guys than gods.
Zeus tells somebody that men, "need to be reminded of the order of things." He then begins to explain the order, "Alpha before beta, etc. etc." He says that he's going to turn men against each other.
Then the men get all melodramatic proclaiming that they have to "take a stand." Perseus, played by Sam Worthington, is the man (but not really) to take that stand. It was strange seeing Sam Worthington outfitted in ancient Greek garb. The last time I saw him was in Avatar and before that Terminator Salvation. It didn't seem right.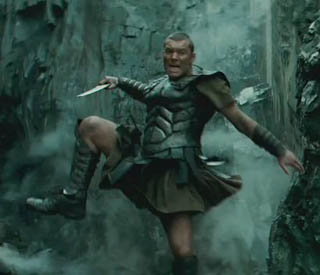 You put your right foot up, you put your sword hand out. You do the hokey-pokey and you STAB, STAB, STAB!
Then we enter the seemingly unending action montage with pulsating rock soundtrack. There's shots in the desert, in the water, in the forest. Shots of flying horses, flying guys with swords (in the typical flying guy with sword pose). Fights with snake ladies, giant scorpions, giant butterflies.
During this montage the text "DAMN... THE... GODS" appears. You have to wonder if the creators just put that in there to be offensive. I mean seriously, do people have to fucking swear all the time? What the hell is the problem with these shitheads?
We can see during the montage that the special effects are high quality. Unfortunately, there are plenty of movies with great special effects that sucked. A movie needs something more, what does it need Liam?
It needs more kraken. "Release the kraken!" cries Zeus. I need to pause for a moment here to remark how ridiculous Liam Neeson looks and sounds in this shot. It seems like almost a parody from Saturday Night Live, it's so bad.
Reviewinator

Trailer
Quicktime
Starring
Sam Worthington
Liam Neeson
Director
Louis Leterrier
Official Site
Link
US Opening
April 2, 2010
Rated
PG-13 (Gods doing some crazy shit)
Genre
Greek
Explosions
0
Weapons
Bow and arrow, spear, sword, stinger, snakes, claws, gravity, lava, knives, tentacles
Man Quotient

5.33

Trailer
Déjà Vu
300
Geek Factor
39%
See Trailer?
Yes
See Movie?
No
Follow Up
Possible
The kraken makes its appearance. It's impressive. The special effects to create him must've taken at least three geek militias to complete. And after a titanic kraken scream, the trailer ends.
Ending Prognostication: Perseus wins then sleeps with his mother gouges out his eyes then gives birth to an 8-headed dog out his ear.
Fun with IMDb: A movie with the stars from Blomsterfangen and Coyote Ugly comes a film from the producers of The Shaggy Dog and Beerfest.
Conclusion on Trailer: The special effects are great and the acting is good for a few chuckles. It makes it worth watching, but it doesn't make me want to go see the movie.
Conclusion on Movie: It's disappointing to see such good special effects appear in such a crappily-acted movie. I know bad acting is normal for action movies, but this looks like even worse than normal. I'd stay home this weekend, and watch the original 1981 version.