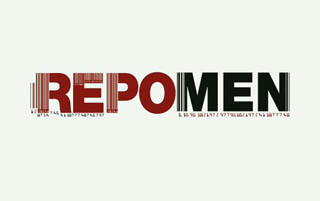 This week I review the sequel to Minority Report called Repo Men. A strange choice for a title of a sequel, but there you go. It doesn't have any of the stars, or crew, but it follows the same plot. Oh wait, I've just been told that this isn't a Minority Report sequel. Oops, my bad.
The trailer opens with two women on a shopping channel showing off the latest artificial liver. It only costs $750,000. Don't worry, it's broken down into three easy payments.
These organs come from a company called The Union. If you can't afford the upfront cost of an organ, they'd be happy to extend you credit. People are so desperate for these organs, that they don't read the fine print. If you can't pay your bills, Jude Law and Forest Whitaker come to repossess your organ, and no they aren't doctors. The way out for the organs is much less delicate than the way in.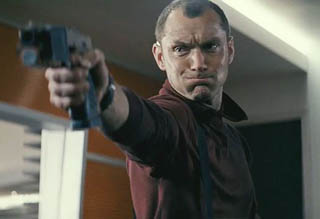 "I'm holding my breath
until you give me a heart. "
We see Remy (Jude Law) breaking into the home of a Mark Wahlberg lookalike. Apparently, there isn't much demand for a Marky Mark impersonator these days, so he's going to have to give up his liver. He begs for his life, but Remy shoots him and removes his metallic liver with extreme prejudice. Just another day on the job for the repo men.
Next, the trailer sets up the relationship between Remy and Forest Whitaker. They've been buddies since childhood, and repo partners since forever. They work together well, and share laughs over artificial pancreases they get to kill people for. What a jolly life for the repo men.
Remy gets the shock of his life when a defibrillator malfunctions and gives him the shock of his life. Blows him all the way across the room, which I think is physically impossible, but it's a movie. Remy wakes up and he's told he's been given the top-of-the-line artificial heart. He doesn't want it, because he can't afford it. He's read the fine print.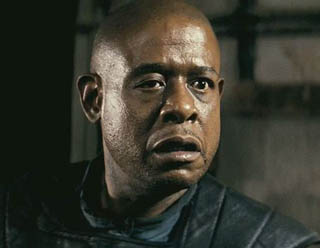 You've come for my eye, right?
Apparently the new heart has come with the "moral compass" attachment, and Remy can no longer kill people for their organs. This cuts off his flow of income, and well, you guessed it, his heart is going to get repossessed. I wonder who will be coming to retrieve it? Will it be some random repo man from The Union we've never seen before? Or, will it be his bff Forest Whitaker?
The Union doesn't have a conflict of interest clause in their employment contracts, so of course Forest Whitaker gets the job. At this point, a love interest gets introduced for Remy. Not really necessary, but there you go.
Remy joins the underground of artificial organ deadbeats, while the megacorp sends its army of repo men after him. In one cool visual, Remy and his woman enter a giant clean room with rabbit-suited workers making artificial organs. I wonder if it's some place at Intel, or just a special effect.
Reviewinator

Trailer
Quicktime
Starring
Jude Law
Forest Whitaker
Director
Miguel Sapochnik
Official Site
Link
US Opening
March 19, 2010
Rated
R (Lots and lots of male organs)
Genre
Sci-Fi
Explosions
1
Weapons
Handgun, BFG, stun guns, pipe, elbow, knife, nightstick, plaque, saw
Man Quotient

5.65

Trailer
Déjà Vu
Minority Report
Geek Factor
67%
See Trailer?
Yes
See Movie?
No
Follow Up
Possible
The trailer ends with an action montage of Remy exhibiting his bad-assery with what looks like the final showdown between the two friends.
Ending Prognostication: Remy manages to bring down The Union for its unethical practices, and gets universal health care established in the United States.
Fun with IMDb: From the director who was an art department runner for Trainspotting, comes a film with stars of Roxy Hunter and the Myth of the Mermaid, and a man who played a cab driver in one episode of Animorphs.
Conclusion on Trailer: Fun trailer to watch, if a bit gory. The concept and plot are clearly explained. Probably a bit too much is revealed, but what trailer doesn't do that. Overall worth a download.
Conclusion on Movie: This one has big name stars, and what appears to be a big budget. I'm a bit worried about the plot similarities it has with Minority Report. I have a feeling this one will start out interesting, then devolve into a series of shootouts without much else. It's an interesting concept, but the action montages look a bit too silly. No BB recommendation for this one.