Tokyo, Japan - Sony announced that it would adding glowing plastic balls to its complete line of product, and not just the PlayStation Move controller.
At the press conference on Sunday, Sony of America's senior vice president of marketing Peter Dille said, "We've received such a strong, positive reaction to the glowing balls on the PlayStation Move controller, that we're moving to put these glowing balls on all our lines of products, from the Bravia line of HDTVs to our Sony Ericsson mobile phones and even to movies products by Sony Pictures."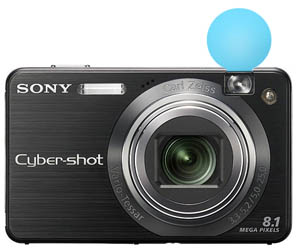 Dille said that on some of the products the glowing plastic balls will only be ornamental, but some will actually have a purpose. "On our Cyber-shot digital cameras the balls will replace the flash. On our VAIO laptops the balls will serve as mouse buttons. Really there's no end to what these glowing plastic balls can do," he said.
Several of the newly-balled products including a few Sony Ericsson phones and a digital camcorder were on display during the press conference although the press were not allowed to touch the balls.
Dille was asked if the company was concerned about consumers confusing the brightly-colored balls for lollipops and accidentally licking them. "Our engineers have thought of that, and designed the balls out of a non-toxic plastic. You can go ahead and lick our balls as much as you want," he said.
Initial reaction by the blogosphere could be described with words like "consternation" and "incredulity." Joshua Topolsky of Engadget wrote, "I knew Sony had lost their way, but I didn't realize how far gone they were. Glowing balls is not the solution for success this company needs."
Consumers can expect to see the glowing balls on some products as soon as this summer, and by the Christmas shopping season all products will be so adorned.
Sony's stock was down on the news.