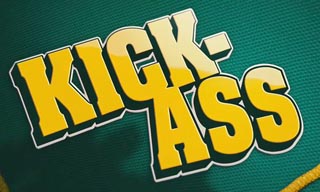 This week I take a look at the trailer for Kick-Ass, a movie based on the comic books of the same name by Mark Millar and John Romita Jr. Translating less iconic comics into movies seems to be a growing trend. Will Kick-Ass help keep this trend alive? Or will it bring it down like a house of cards? Let's find out...
The trailer opens with our protagonist Dave Lizewski, played by Aaron Johnson who also played Young Lorimer Black in the TV series "Armadillo," asking his friends why no one has ever tried to be a superhero in real life. His friends tell him it's impossible, but Dave has a different take.
He starts out by donning his green costume and practicing in front of the mirror. Looks like he's going to need more practice.
Next, we see how much of a dork Dave is in school. He embarrasses himself in front of some girls, just like most dorks do. Despite his social shortcomings, he goes ahead with the superhero gig.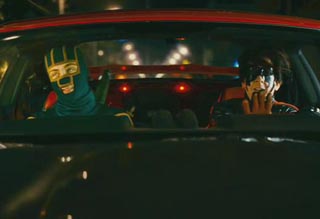 Superheroes are dorks too.
He happens upon some hooligans roughing up a chap, and decides to kick ass. Unfortunately, while he does some ass kicking, he also gets his own ass kicked. A kid gets the whole thing on video though, and newly-named Kick-Ass becomes a YouTube sensation. A montage of people gathered around TV sets cements his reputation as a superhero.
Now, Nic Cage and Chloe Moretz make their appearance. Nic makes a silly joke, and an annoying laugh. Together they're Big Daddy and Hit Girl. McLovin also makes an appearance as Red Mist. These real-life superheroes form a Justice League of their own, and the bad guy isn't happy.
You see, Big Daddy (who looks suspiciously like Batman) just took out 8 of the mob boss's best men. Just think what a team of 4 superheroes could do. Next comes a short action montage showing that Hit Girl should really be the one called Kick-Ass, and Kick-Ass and Red Mist should be called the Comic Relief Wonder Twins.
Then some shots of Red Mist and Kick-Ass driving through town acting all superheroey, and finally another action montage.
Reviewinator

Trailer
Quicktime
Starring
Aaron Johnson
Chloe Moretz
Director
Matthew Vaughn
Official Site
Link
US Opening
April 16, 2010
Rated
R (Lots of stuff kids shouldn't be watching)
Genre
Comic Superhero
Explosions
4
Weapons
Clubs, fists, handgun, machinegun, assault rifle, knives on a stick, shotgun, feet o' fury, SMG, baseball bat, butterfly knife
Man Quotient

9.6

Trailer
Déjà Vu
Watchmen Jr.
Geek Factor
90%
See Trailer?
Yes
See Movie?
Yes
Follow Up
Likely
Fun with IMDb: A movie featuring the stars from Bobby's Whore and The Calcium Kid comes a film from the producers who brought you Bride of Chucky and Brad Pitt.
Ending Prognostication: The superheroes win, at least some of them do? That's my guess.
Conclusion on Trailer: Honestly, the trailer looks kick ass. Superheroes without superpowers. A 10-year-old girl kicking ass. Humor. Action. It's got it all. Definitely worth watching unless you want to avoid any and all spoilers.
Conclusion on Movie: Roger Ebert gave this movie 1 star, which doesn't fill me with confidence. However, reading through his review, his main problem was a moral one. He didn't like the universe where a little girl killed without any problem. He felt the movie was too dark and too violent. I'd have that same issue if I let my kids watch this movie, so I wouldn't recommend that, but I think I can separate reality from fantasy. Now, the question of whether this movie will do justice to the original material is a different question. I just finished reading it, and I'm very interested to see if the movie reaches the same conclusions as the comics. I'm having my doubts. Anyway, if you can separate fantasy from reality, then I say make a visit to the theater for this one.