Montreuil-sous-Bois, France - Ubisoft plans to build a global network of "gaming centers" where players wishing to play the company's game will have to visit to play new titles supervised by Ubisoft "service coordinators."
The plans are going forward despite growing complaints about Ubisoft's current DRM scheme, which requires a constant Internet connection to the company's DRM servers. These servers have gone dark causing many people who paid for the game to be unable to play it.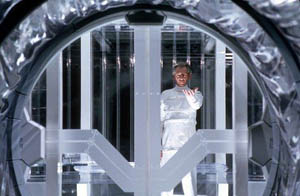 Guillemot said that Magneto's plastic prison in X2 was the "inspiration for the new gaming centers."
Ubisoft CEO Yves Guillemot said, "This plan will create a great environment for the gamer and protect our games from piracy. It's a win-win situation for everyone. Our gaming centers will be equipped with the latest in hardware technology for gamers to enjoy our latest titles. Our service coordinators will make sure each gamer has been properly licensed before allowing them into the transparent gaming cubes to play the games."
Other executives in the video game industry hail the move as revolutionary, and see it as the future of content protection. Barry Crumholtz of Electronic Arts said, "Let's see the pirates break this DRM. I'm having my assistants preparing taunts for them as we speak."
The first gaming centers will be built in large metropolitan areas where they can serve the most users. Each center will be large enough to accommodate at least 1000 gamers on the latest consoles and PC hardware. Gamers will purchase hourly licenses for the games, and assent to a full-cavity body search before allowed to play the games in the heavily-monitored gaming cubes.
Hacking groups admit that they will be unable to break the DRM on the games. "Looks like Ubisoft finally has us beat," said CaptainDestro of the Unlimited Zero piracy club. "They will certainly reap the rewards of not having their games pirated now."
Guillemot said the company did not test the new system with actual gamers, but the company's lawyers and accountants showed strong support for it.
Ubisoft's stock was down on the news.