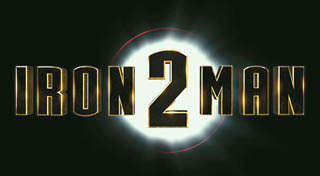 Here's another one of those trailers where I have to ask myself if it's worth reviewing. Is there a geek out there that hasn't heard of this or made up their mind on it? Probably not. To make this trailer review worthwhile for you, the reader, I'm going to have to tell you something you don't already know. Here it is...
Scarlett Johansson is hot. Crap, you already know that? Mickey Rourke is creepy? Don Cheadle and Sam Rockwell are awesome? I like to dress up in women's clothes and sing Barbara Streisand tunes on karaoke night? That too? Geez, Google really does know everything. OK, I've got it, the woman who does the acrobatic wrap-around move on the guard is supposed to be Scarlett Johansson, and not so obviously a stunt person.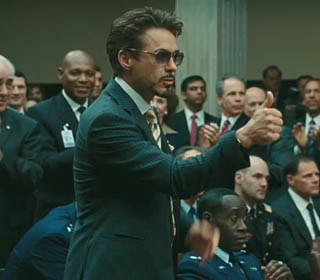 I give myself a big thumbs up.
Anyway, enough with that silliness, time for the trailer. Tony Stark likes to make a grand entrance, and he does, complete with pyrotechnics and dancing girls. Robotic arms remove the Iron Man suit and he's ready to rock in his monkey suit.
Scarlett makes her entrance and Tony Stark is his usually chauvinistic self commenting to Gwenyth Paltrow that he "wants one." She turns him down, because of the not so subtle sexual tension between the two. Also because Tony Stark is gay, but that won't be revealed until Iron Man 3.
The trailer takes a turn on Depression Lane with Mickey Rourke building his Whiplash suit and talking about making god bleed. Does he have to be such a Debbie Downer? I guess so.
Whiplash walks out onto the track of a Gran Prix race. The drivers don't seem to care that some whackjob is on the course, and continue driving, including Tony Stark. Whiplash takes his whippy things and chops Tony's car in half, well, not really in half more like in 1/4 x 3/4.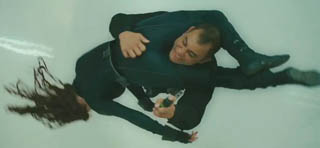 Luckiest henchman in the world.
Now for some shocking news, Garry Shandling is a US Senator. When did this happen? I know Al Franken won his election, but I didn't even know Shandling was running for the Senate, or changing his name to Stern. Awesome. Stern wants the Iron Man suit as a weapon for the US government. Tony tells him that Iron Man is just special effects, but the Senator doesn't buy it.
Whiplash finds himself in an airplane hangar with Sam Rockwell. Rockwell wants Whiplash to sign an endorsement contract with him. "You'd be great as a running back for the Detroit Lions. No one would get in the way," says Rockwell.
Rockwell has built an army of Iron Men that he's selling to the US Navy (and using to kill Tony Stark). Luckily, Don Cheadle gets his own suit, and we all know how much of a bad ass he is.
Reviewinator

Trailer
Quicktime
Starring
Robert Downey Jr.
Scarlett Johansson
Director
Jon Favreau
Official Site
Link
US Opening
May 7, 2010
Rated
PG-13 (Lots of boom boom)
Genre
Comic Superhero
Explosions
8
Weapons
Iron Man, Whiplash, Iron Man little buddy, VX-2, flying martial arts lady, barbell
Man Quotient

16.1

Trailer
Déjà Vu
Iron Man
Geek Factor
95%
See Trailer?
Yes
See Movie?
Yes
Follow Up
Likely
Now the AC/DC switches to an action-montage ready track. Which leads to the final scene of the self-assembling Iron Man suit that looks amazingly realistic for CGI.
Ending Prognostication: Scarlett Johansson steps out of the screen and decides to come home with me. Mrs. BBspot thinks it's a great idea.
Fun with IMDb: Starring the man who played "the doorman" in Bum Wrap and the production secretary for Race to Witch Mountain, comes a film from a guy who did craft service for Curly Sue.
Conclusion on Trailer: Great special effects, good humor and action, plenty to get excited about. This trailer does its job and is worth watching.
Conclusion on Movie: Probably won't be as good as the first movie, but should provide enough entertainment to make it worthwhile to see in the theater. I know I will.