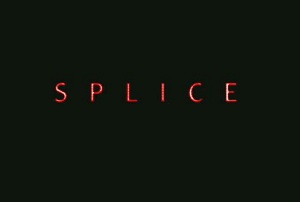 This week I take a look at the trailer for a movie that picks up where Jurassic Park left off. Crazy scientists are doing wacky things with DNA and the human race is threatened. Science=bad. It's called Splice.
In Splice it's not dinosaurs they're creating, but a "not quite" human creature with a tail and one fang. The creature also turns out to be incredibly sexy... and deadly.
Adrien Brody and Sarah Polley play the mad scientists, though Polley seems to be the mad one and Brody is more the emo one. From the opening text flashing across the screen, you would think this type of experiment is happening every day. It's not.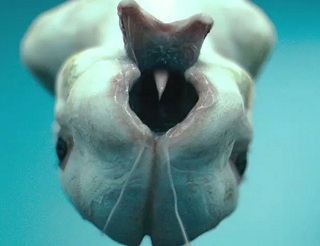 Cutey-pie Baby!
Polley pleads with the board of directors to let her complete the experiment, but the suits worry that "politicians and regulators" will shut them down. Polley continues to nag Brody about going along with it. She throws down the "I'm just doing it to help people" card and the "it's not going to be 100% human anyway" card.
Next, we get the "birthing" scene. Polley shoves her hand into the symbolic womb to try to pull out the creature. Unfortunately for her, the creature has inhuman strength and yanks her arm. Brody hits the emergency fluid release valve, and they sit there like mother and father staring at their creation.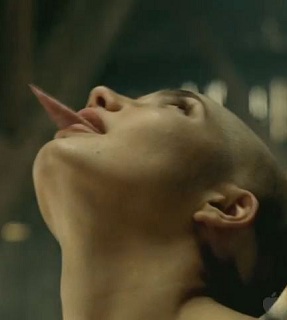 Brody calls it a mistake, and wonders why he didn't wear a condom. Polley gets this "mother gone mad" look in her eyes. Then the trailer turns into Aliens. The creature makes a skittering sound as Polley searches for it after finding an empty cage. She's locked in the room with it, and no one can hear her scream. It surprises her with the jump scene that you'd expect in a horror film.
Polley starts to grow attached to the creature (and not in the Alien way). It's freaky looking, and grows at 10 times the pace of a human. Brody thinks it's time to end the experiment, but Polley spirits the creature out of the lab where inevitably it escapes into the wild.
The creature, like in many of these horror movies, is a hot-looking woman with super-not-quite-human skills. She's got this tail with a wicked spike on the end of it, and the bridge of a nose that would make any Bajoran proud.
Reviewinator

Trailer
Quicktime
Starring
Adrien Brody
Sarah Polley
Director
Vincenzo Natali
Official Site
Link
US Opening
June 4, 2010
Rated
R (Science)
Genre
Scare People about Science
Explosions
0
Weapons
Spiked tail
Man Quotient

1.5

Trailer
Déjà Vu
Jurassic Aliens
Geek Factor
5%
See Trailer?
No
See Movie?
No
Follow Up
No
The trailer ends with a montage of action clips where the creature does a bunch of scary things. The characters narrate the clips with the standard "this is the nightmare we worried about" speech.
Ending Prognostication: Someone has to live for the inevitable horror movie sequel (has there ever been just one of a horror movie made?). I'm guessing it's Adrien Brody. Polley will die at the hands of her creation as punishment. The creature will probably die too, but Brody will be around to make her sister for Splice 2.
Fun with IMDb: From the director who was in the art department of Jim Henson's Dog City TV show comes a movie with the stars of Puppets Who Kill and The Doodlebops.
Conclusion on Trailer: Brody's acting and the ridiculous special effects make this trailer almost unbearable. I would not waste my time watching this one.
Conclusion on Movie: This one has schlock written all over it. It's not going to raise consciousness over the serious ethical discussion surrounding DNA manipulation. It'll only add to the science-hating communities' worst nightmares. Seriously, who wouldn't love to create a human-hybrid creature in the lab. If we can do it, I say go for it.