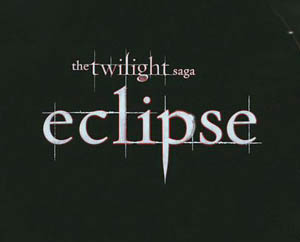 This week I have the unenviable task of reviewing the trailer for The Twilight Saga: Eclipse. The latest film to be made from Stephenie Meyer's suck-terpiece of a book series that started with Twilight, which I called "quite possibly the worst book I have ever read." I'm just telling you this, my biases on the trailer are clear to everyone.
The trailer opens with a hunky Jacob approaching Bella and Edward outside the school. Bella's worried the two will clash, and Edward tells Jakie to get lost. Jacob says that Bella has the right to know that everyone is making fun of her for her droopy eyes and bad acting. Bella tells Jacob, "Look who's talking Mr. Can't Even Get One Line Right the First Time."
Edward intercedes, and tells them that people are dying in Seattle. She doesn't know what this means, but he tells her that it means that someone is building an army of vampires. The army of vampires looks more like a big gang than an army, and more like zombies than vampires. This trailer doesn't let the facts get in the way though.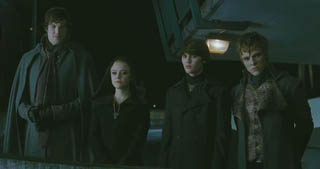 This leads to the situation that everyone has been waiting for. Jacob and Edward, werewolf and vampire, must join forces to defeat the big gang of zombies. The zombies emerge from the water Navy Seal style and the council of uptight vampires declares that it's time.
Time for what? The battle appears to be like how the Civil War was fought, but without guns. Everyone just runs at each other in a big group, which absolutely makes no sense, but whatever.
The pounding chorale music begins and punctuates the final action montage of vampire vs. zombie and werewolf vs. zombie action with a side of smoldering eyes thrown in. If you've made it this far into the trailer then you deserve some sort of a medal (or a +2 ring of intelligence and manliness to counteract the 2 points you lost for watching it).
Reviewinator

Trailer
Quicktime
Starring
Kristen Stewart
Robert Pattinson
Director
David Slade
Official Site
Link
US Opening
June 30, 2010
Rated
PG-13 (sparkly vampires, smoldering eyes)
Genre
Vampire
Explosions
10
Weapons
Fist, teeth
Man Quotient

-99

Trailer
Déjà Vu
Twilight
Geek Factor
0%
See Trailer?
No
See Movie?
No
Follow Up
Death before dishonor
The trailer clocks in at around 90 seconds as opposed to the 150-second length I normally get to review. My heartfelt thanks to the producers for that.
Ending Prognostication: I have no idea how this will end, but I'm sure everyone going to the movie will. I'm sure Jacob, Bella and Edward all survive for the next movie, and leader of the big gang of zombies dies. I'd like it to end with a nuclear holocaust that only wipes out zombies, vampires, werewolves and Bella, but I only give that a 0.0007% chance of being correct.
Fun with IMDb: From the producers of Agent Cody Banks 2: Destination London and My Sassy Girl comes a movie with the stars from Zacharia Farted and Puff, Puff, Pass.
Conclusion on Trailer: The acting is bad. The effects are bad. The person they cast as Royce King is completely wrong. The story is ridiculous. Do not watch this trailer under any circumstance, even if your tweenage daughter wants you to.
Conclusion on Movie: Every effort should be employed to actively discourage anyone from seeing this movie. Start a picket line. Write your representative. Speak at schools about the dangers of Twilight. Form a phone chain that blankets the globe. For every person you prevent from seeing this movie, a sparkly vampire dies!