As the publisher of a site that gets a fair amount of traffic, I get pitches from tons of PR firms wanting me to link to or post content about their linkbait list, new flash game or unfunny movie. I'd say 99% of these pitches get archived without a second glance. However there are times when I get asked by the actual creators of content to take a look at their material, and that's much more rewarding.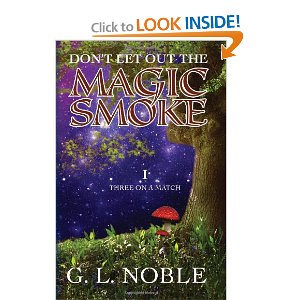 Years back I got a chance to review an independent film called Moving, about a guy's house being stolen. It's fun to write about creations that other people may never know about. It's like being a beta tester for new software. You have that sense that you're special, because you get to see it first.
Now I get another opportunity to write about an independently produced media creation. This time it's from a longtime BBspot reader, who has published a Sci-Fi/Fantasy novel called Don't Let Out the Magic Smoke. This is the first book in the Three on a Match trilogy. I'm glad I get the chance to tell you about it.
The story begins with two American Air Force pilots being abducted by aliens, not for anal probes, but to join in the intergalactic military force called the Fliers. Worlds without their own military force contract with the ragtag bunch of aliens from across the Universe for protection.
Dervish is the name of the alien that abducts them, and he's got a bit of a murky past. No one knows who his parents are or what race he belongs to. The journey to find out that information is a large part of the story arc.
Reviewinator

Book
Amazon
Starring
Dervish, Angel and Hawk
Author
G. L. Noble
US Opening
August 18, 2009
Genre
Sci-Fi/Fantasy
Explosions
Lots
Weapons
Fist, teeth, phasors, space ships, Stinkbears,
Geek Factor
90%
Read Book?
Yes
The three of them travel to many different galaxies and have many adventures together. There's epic battles, strange mating rituals and even some Elves. The book always kept surprising me where it went next (in a good way).
I don't want to ruin the plot for you, so let me just give you my overall thoughts on the book. I enjoyed reading the book, and it provided me with plenty of entertainment during my travels this summer. I know how hard it is to write a book, so I'm glad today's technology lets more people get their writings to the masses.
I did have one issue. It could've been because of the large time periods between me picking up the book to read because of other obligations, but it seemed a few characters just appeared without explanation. I did get a little confused at a couple points, wondering who these new characters were.
Overall though, I think the book is worth your time and treasure, and I'm not just saying that because the author occasionally sends me emails about typos to fix on the site.