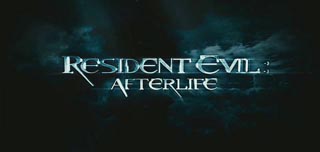 I didn't review the first of the Resident Evil trailers, but I did review the next two. I guess I never imagined that first film would spawn three more movies (and a possible fourth). I review the fourth in the video game-to-movie series Resident Evil: Afterlife. (Is this the most movies a video game has spawned?)
Director of the first film, Paul W. S. Anderson, returns for this one. He's the guy that brought us the awful Death Race and DOA: Dead or Alive. Unfortunately for us, his films are cheaply made and feature enough sex and violence to make money in worldwide releases (how else can you explain a Death Race 2 in production?).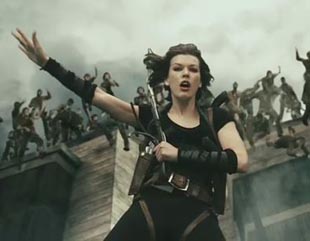 Milla Jovovich returns to star as the lead character, Alice. The trailer opens with Alice describing how the zombie apocalypse started. With a single person being chomped on in a crowd of umbrellas (Umbrellas, get it?). She says it's now five years later, and the entire human race has been obliterated (almost).
She tells us that the last survivors followed an emergency radio signal to Alaska, which promises food, shelter, safety and security. Alice makes it there in her dual-prop fighter plane to find only one survivor. The survivor has some sort of jeweled scarab embedded in her chest. It was put there by the evil Umbrella Corporation, embodied by none other than the evil Val Kilmer.
Alice decides to fly south to find the source of the radio signal that led her to Alaska (Sarah Palin anyone?). She happens upon a ragtag band of survivors in a decimated city. They must descend underground to find the people responsible for the apocalypse: the Umbrella Corporation.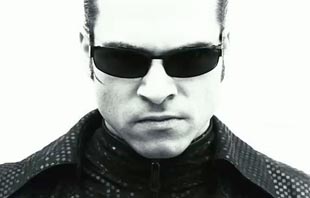 Below ground, Val Kilmer and his cronies feel safe, but Alice is about to crash the party. At this point the pounding rock music begins and the trailer enters "action montage" mode. It's during this sequence we learn that not only have the people of Earth been infected, but the movie has as well... with 3D!
During the action montage, we see plenty of weapons flying toward the screen and other effects that only appear in 3D movies. These cheap tricks don't impress anyone and only detract from the viewing experience, but I didn't have to tell you folks any of that.
Reviewinator

Trailer
Quicktime
Flash
Starring
Milla Jovovich
Ali Larter
Director
Paul W. S. Anderson
(Death Race, Mortal Kombat)
Official Site
Link
US Opening
September 10, 2010
Rated
R (violence, Milla Jovovich)
Genre
Video game-to-movie
Explosions
5
Weapons
Teeth, swords, giant meat tenderizer, sawed-off shotgun, mutant, assault rifles, feet, knives, throwing stars, eyes
Man Quotient

8.5

Trailer
Déjà Vu
Resident Evil
Geek Factor
90%
See Trailer?
No
See Movie?
No
Follow Up
Unlikely
If you look at the "5 annoying trends" article I linked to on Thursday, you can see this movie takes advantage of several of those trends. It's got the "teal and orange" color scheme. It's got the "ramping (aka everything slows down then speeds up)" effect. The "3D effect that makes the movie looks worse" also is in play. That's 3 out of 5, which gives it a 60% chance that it will annoy you (I'm guessing it's higher than that).
Ending Prognostication: Alice doesn't die, but some of the ragtag band of survivors do. The Umbrella Corporation will be slowed, but not stopped. Since I already know a sequel is in the works, there's no doubt it will end with a sequel teaser.
Fun with IMDb: From the stars of Jacob Two Two Meets the Hooded Fang and Kidz Bop: Everyone's a Star comes a film from the producers of Battlefield Earth and Slap Her... She's French.
Conclusion on Trailer: You've seen this trailer before, if you've watched any of the other Resident Evil trailers. This one doesn't have anything worth watching, unless you like being annoyed by the cheap special effects and blatant "only in there because it's 3D" scenes.
Conclusion on Movie: Plenty of strong violence (thanks to its R-rating) and bad special effects will permeate this stinker. I'd recommend staying home and playing one of the Resident Evil games instead of spending your money on this schlock.