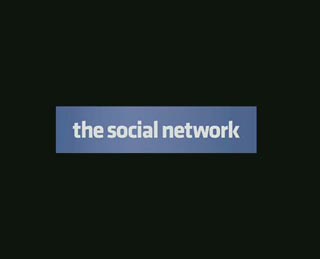 It's not often that I review a trailer without explosions or real weapons, but that's just what The Social Network is. It's hard to deny it's a geeky movie given that it covers the creation of Facebook and the life of the uber-nerd Mark Zuckerberg.
I fear this movie might fall into the category of "knowing too much about the material," like hospital dramas are to doctors, courtroom dramas to lawyers or Smallville to Superman. Geeks, me included, already pick apart movies for factual inaccuracies so we're used to it, but this one may cross the line into being distracting.
The trailer opens with a choir singing Radiohead's "I'm a Creep" while Facebook photos and status messages fill the screen. The combination moved me, but the trailer spends nearly a third of its time in this montage mode. It's a bit too much for my tastes, but there it is.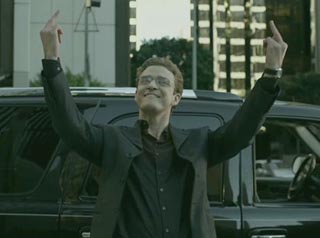 The montage ends on a profile photo of Jesse Eisenberg as Mark Zuckerberg and fades into a scene at Harvard in 2003. Mark Zuckerberg sits in a campus bar and tells a girl that he "needs to do something substantial" to get the attention of the exclusive clubs on campus. She questions his motives, and he tells her that these clubs are fun and lead to a better life.
This taps into the alienation geeks often feel, but at the same time stereotypes geeks as outsiders with an inability to be social. I'm not sure I like where this is headed. As a montage of these clubs filled with hot women and studly guys plays across the screen, Mark describes the purpose of Facebook: To distill the college years into an online experience, but without all the barfing.
The immediate success of the site leads to allegations that Zuckerberg stole the site, and brings in slimy Justin Timberlake to raise expectations for the Zuck from millions of dollars to billions of dollars. Things begin to unravel as Mark leaves friends behind to put Facebook under his sole control.
The trailer finishes with the school board outlining charges against Zuckerberg while a montage of scenes worthy of an 80s sex, drugs and web sites parade across the screen. Zuckerberg responds to the charges in a socially awkward way, while his lawyers cringe beside him.
Reviewinator

Trailer
Quicktime
Flash
Starring
Jesse Eisenberg
Rooney Mara
Director
David Fincher
Official Site
Link
US Opening
October 1, 2010
Not Yet Rated
PG-13 (nerdery, computers)
Genre
Web 2.0
Explosions
0
Weapons
Keyboard
Man Quotient

15.6

Trailer
Déjà Vu
Revenge of the Nerds
Geek Factor
90%
See Trailer?
Yes
See Movie?
Yes
Follow Up
Likely
Fun with IMDb: Starring the guy who played Glen on one episode of I Didn't Know I Was Pregnant and the guy who played Security Officer Daniels in the most recent incarnation of Star Trek, comes a film from the producers of B*A*P*S and Interstate 84.
Ending Prognostication: Facebook becomes a successful website, and Mark Zuckerberg is hated by just about everyone.
Conclusion on Trailer: This trailer does a good job portraying the start up of a hugely successful website as being a dramatic event. The opening lingers too long, but it sets an interesting tone for the rest of the trailer. It's worth watching.
Conclusion on Movie: It's hard to know if this movie will end up being a hit piece on geeks, as some of the trailer suggests, but the people involved usually make good movies. I have a feeling that non-geeks will probably enjoy this one much more than geeks, but it still should be worth a visit to the theater.
Some of you are probably wondering how a movie with not explosions, or weapons can score such a high "Man Quotient," but remember the other factors involved in the calculation (hot women). This trailer has several scenes where scores of unrealistically hot for Harvard babes appear. I hope that answers your questions.