Waco, TX - Neon tubing and blow holes weren't enough for one local computer case modifier and now the deaths related to case modification are two. Just 12 days ago Carson City, Nevada teen Warren Botrey was killed in a house fire when the acetylene torch he was using to modify his computer case ignited his comic book collection and destroyed his home. This time the victim is Waco resident Sean Whitman.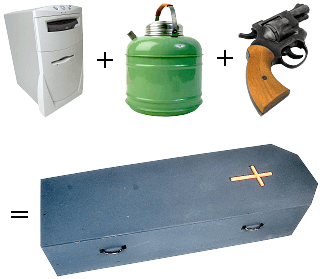 "He wanted a case that looked like it came from a war zone. I told him he was crazy, but that Sean is a visionary. First we took the case out back and shot it a few times with his pistol, but the holes weren't big enough to allow proper ventilation," said survivor Fred Willis. "After that we left Sean outside while we went to get some more brews. Next thing we know we're pulling glass out of our eyes."
According to what police munitions experts can piece together Sean Whitman attached two large propane tanks to his computer case and began shooting. The explosion created some very large ventilation holes in his chassis, but unfortunately for Sean some very large holes in his torso also.
"It probably wasn't the greatest idea in the world, but we were pretty drunk," said Fred. "I'm very sad to see my friend Sean die, but I think he guaranteed himself a spot in overclocker heaven with this one."
NRA President Charlton Heston said, "It is unfortunate that a young citizen has been killed. We hope that all Americans learn a valuable lesson from this: Guns don't kill people, exploding propane tanks kill people."