Redmond, WA - Disputes have arisen in the first few days after the release of Distributed.net's W2KB client which uses an inverted code regression algorithm to compute the number of bugs in Windows 2000. Accusations are flying between Team Microsoft and Team Linux about code patches and forged packets.
The controversy centers on a Windows 2000 Service Pack which was released just one day after the W2KB client was released. After that pack was released Team Microsoft's bug finds accelerated rapidly. Team Linux leader Craig Bartleby said "I believe that this so called "service pack" exploits the W2KB client to Team Microsoft's advantage"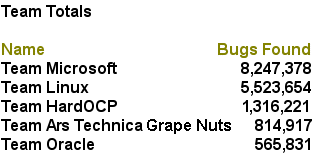 "That's outrageous," said Team Microsoft member Kerwin Maxwell, "Do you actually think our programmers are skilled enough to write code like that?"
Team Microsoft counters the charges with accusations of its own. "We believe that Team Linux has been forging packets to boost their total. First and foremost they want to win the contest. Secondly they want to make Windows 2000 appear more error filled than it really is," said Mr. Maxwell. "We've analyzed the original source code and can assure you that some of the bugs they are finding are faked. We can't show you the code, so you'll just have to trust us."
Team Linux denies these accusations. "We don't have to forge packets," said Mr. Bartleby, "Windows 2000 is buggy enough without us helping. Microsoft should just release the source code to settle this issue.'
"Fat chance," said Team Microsoft leader Bill Gates, "Then they could exploit the client and win the contest. I need the $10,000 prize money to remain the richest man in the world."
Distributed.net utilizes idle CPU cycles of members computers to solve challenges that require massive computing power. The Windows 2000 bug calculation effort is the most computationally intensive effort undertaken so far, and is expected to take over 3 years to complete.