Miami, FL - A Miami resident didn't know that a name change he made 3 years ago would have the repercussions it is having today. Manuel Recount's decision to change his name from Manuel LaBor was supposed to end his suffering as the butt of so many jokes. Thanks to the Presidential deadlock, Manuel must suffer again.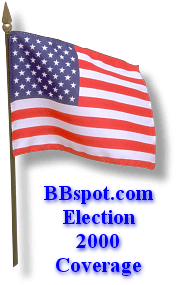 "I was tired of all the 'manual labor' jokes. I'm an accountant for crissakes," said Mr. Recount. "So I thought 'Hey I can just change my name.' I thought that Manuel Recount had a nice ring to it and that people couldn't make fun of that name. Now this whole Presidential election deadlock has made life a living hell."
Manuel hears, "Hey, Manuel I thought you were up in West Palm Beach," or "Who's going to win you?" about 500 times a day. Mr. Recount has also been denied service at a local restaurant, who's owner opposes manual recounts in the Florida Counties. Deli owner Jerry Elias said, "I voted for Mr. Bush and I don't support any kind of recount whatsoever especially a Manuel Recount. He won't be getting any sandwiches in my store."
There are also other problems for Manuel. "I'll be eating my breakfast and watching the Today show and all of a sudden I think they are talking about me. I wonder 'Why is Katie Couric mispronouncing my name', then I realize she's not even talking about me,' said Manuel.
Manuel is considering another name change. "This time I'm going to change my name completely to avoid any problems. I'm thinking a normal American name like Michael Hunt or Richard Long might suit me better."