Ann Arbor, MI - The recent downturn in the economy has caused many corporations to rationalize their employees. Even Office Jesus has been unable to escape the ax. Once the VP of Coffee Making and Security at Selby Communications, Office Jesus is now homeless and forced to work miracles for food.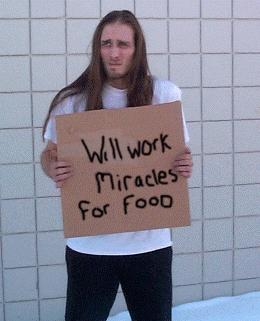 Shortly after firing Office Jesus, President of Selby Communications, Henry Thomas said, "Our sales numbers were dipping and we needed to make cutbacks to maintain profitability. The guy made some damn good coffee, but that wasn't helping the bottom line." More recently Selby Communications filed bankruptcy after sales plummeted and a swarm of locust destroyed their inventory. In addition, Henry Thomas has been diagnosed with an inoperable brain tumor.
Office Jesus was unable to find work in Lufkin, so he journeyed north. "I moved to Ann Arbor [Michigan] because they have a lot of coffee shops where I thought I could find work," said Jesus. "But things haven't worked out too well. I couldn't make enough money at Espresso Royale to keep paying the rent, and once I didn't have a permanent address the bastards fired me."
Since being terminated Office Jesus has been living in a shelter and working miracles on street corners for spare change. "Curing blindness is a nice skill to have, but unless your landlord is blind, it doesn't pay the rent." said Office Jesus.
"You'd be surprised at how thankless these people are," continued Office Jesus, "I'll cure their cancer and they'll give me 50 cents. Another guy was down here saying he'd have me arrested for practicing medicine without a license. Luckily for me he had a pretty bad accident before he could do that."
Editor's note: Shortly after this article was printed Office Jesus was contacted by several bankrupt dot com corporations to see if he could resurrect their businesses.