Santa Clara, CA - A recent survey of Linux users found that the two main factors in their migration to Linux was its stability and that it made them feel intellectually superior. Developers promise that along with USB support there will be increased intellectual superiority in the upcoming 2.4 kernel release AKA the "Hubris" kernels.
"Many users complained that in our previous release that we sacrificed some intellectual superiority in the name of 'ease of use'. We aren't going to make that mistake in this release," said kernel programmer Johan Klens.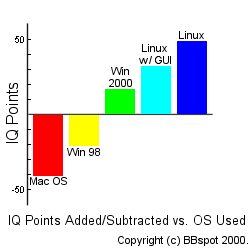 "Programmers have worked very hard in the latest kernel release trying to make even simple tasks more difficult," continued Mr. Klens, "This release is going to include the "ocsh" - the obfuscated C shell, sure to be a favorite of intellectual superiors. In addition to inputting commands as obfuscated C code, users can also input commands in binary directly to the registers. It took me 10 minutes to code the directions to 'cat' using ocsh, but it was worth it!"
"I was impressed by the stability of Linux," said Thomas Azizi "and since I'm a loser in pretty much every other facet of my life, gloating about my OS choice makes me feel great."
"Let's face it. Linux isn't for dummies," said Linux advocate Dieter Braun, "There may have been a Linux for Dummies book, but I doubt it sold a single copy. I'm sure Windows for Dummies was a best seller."