Tecumseh, MI - Constantly denied in his attempts to rub teen pop sensation Christina Aguilera "in the right way," local teen Chris Meyers decided to rub himself instead.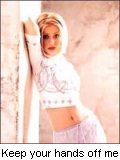 "I had taped the video for Genie in a Bottle a few months ago off TRL. I've probably watched it 50 times," Chris said. "I had sent her several emails telling her that I could rub her the right way. After I didn't get any response I decided to take matters into my own hands." Meyers also commented that the Genie is definitely out of the bottle "if you know what [he] means."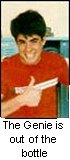 This isn't the first time he's let the Genie out of the bottle. That occurred last year during a viewing of the Britney Spears video "...Baby One More Time." "It made me feel all tingly inside," Meyers said. Anonymous sources inside the Meyers home say, "One more time? Yea right. With the amount of time he spends in the shower. I'd say at least 100."
When contacted by BBspot, Christina Aguilera said, "Yuck."