Hollywood - In a stunning upset of Oscar favorite "American Beauty", James "Mad Dog" Simpson won a record setting 55 Academy awards.
Interviewed in his home behind Food 4 Less, Mr. Simpson had this to say, "I'd like to fank the 'cademy, Mr. Smith the night manager and I wish that blue guy would stop yelling at me. Arf, arf. Did I tell you about my cabbage?"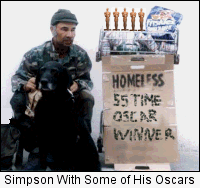 Taking Oscars for Best Actor, Best Director, Best Actress and Best Supporting Actress among others, Mr. Simpson is a first time Oscar winner and immediately passes Katherine Hepburn and Tom Hanks for number of Oscars won in a lifetime. Though it was his first year in Hollywood he also nabbed the honorary Cecile B. DeMille Lifetime Achievement Award.
"I'm just stunned," Kevin Spacey said, "but no one deserves it more than Mr. Simpson. It was an honor just to be nominated in the same category as such a great man." Director James Cameron asked, "Does this mean I'm not King of the World any more?"
Mr. Simpson's next project is a long walk with his dog Scruffy.