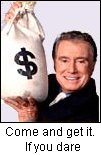 New York - After several weeks of declining ratings, ABC's Who Wants To Be a Millionaire? had to go back to the drawing board to inject a little more excitement into the show. Now all contestants who do not reach at least the $32,000 milestone will be branded with "LOSER" on their forehead. Regis Philbin himself will apply the red-hot iron to the skulls of the contestants.
"We feel that this is what America wants," says show producer Simon Wilcox. "I mean shouldn't somebody who doesn't know the capital city of California be branded?"
That's not all either. Contestants who fail to reach the $1,000 milestone will be decapitated with a rusty guillotine. "Come on, if you don't know Little Jack Horner pulled out a plum then you don't really need your head anyway," exclaims energetic host Philbin. "Now that's what I call the hot seat."