Orlando, FL - Federal authorities have finished their investigation into the gayness of pop stars Backstreet Boys. "We find no evidence that the Backstreet Boys are gay," said Fred Longawanger of the Federal
Bureau of Gayness (FBG).
The investigation was prompted by comments by Josh Shields of Waukesha, WI who claimed that Backstreet Boys were gay. "Look at the way they dance, they are so gay." This prompted Josh's sister Tiffany, 13, to contact the FBG for a thorough investigation.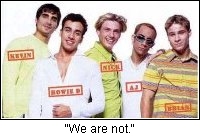 "Sure they dance real good, but they are so NOT gay, especially Nick" says Tiffany. Despite the findings of the FBG a recent USA Today infographic states that 64% of people think that Backstreet Boys are "gay/definitely gay", while only 3% think they are "definitely not gay."