New York, NY - Warner-Lambert Co. said on Sunday in a nationally televised announcement and full page ads in Parade magazine, "Ask your doctor about Drysexia."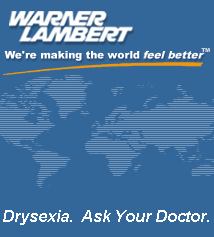 In addition, an attractive middle aged spokesman for the company stated that "Drysexia may be for you."
The announcements also mentioned that Drysexia is not to be taken by people with brain damage, cataracts, arthritis, heart problems, women with one arm, cats, salesmen named Steve, a man named Jed, people who can't read, poor people, and should not be touched by pregnant women or people high on crack. Drysexia should not be looked at by people with eating disorders or current members of the KKK. Drysexia should never be talked about by people who have seen the movie "Fight Club".
When contacted about Drysexia Warner-Lambert CEO Melvin Goodes replied, "Sorry I've seen Fight Club."