San Jose - To a crowd of tech reporters and industry heavyweights Sisqo Systems unveiled its newest thong router - the TNG2000. The TNG2000 is designed as a

gateway for the millions of thong packets flying through cyberspace. Thong Song crooner and CEO Sisqo said, "Baby, this is the hottest router in the world. It's routing the vida loca."
"Thong packets are the hottest segment of the market," said industry analyst Bob Smeckins. "Sisqo once again proves to be the industry leader."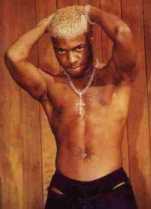 Thong packet usage has been growing at a rate of 34% a month for the last year since its development by R & B stars Dru Hill. A competing format by Microsoft - G-STRING has been announced but has yet to be seen. "We don't see G-STRING as a threat to thong packets, and we are working closely with Microsoft to develop G-STRING routers also. If they decide not to cooperate then we will kick there bu-butts," said Sisqo while busting some phat moves on the stage.
The TNG2000 is housed in a black box with silver metallic trim. The target market appears to be the yet untapped inner city youth demographic.