Redwood City, CA - Oracle Corporation announced today that they are experiencing explosive growth in Larry Ellison's ego. The company issued a press release today stating that Ellison's ego is now the largest in the world.
According to Steve Finley an analyst with Salomon Smith Barney, Ellison's ego has almost doubled in size in the past six months. "It's the most explosive growth we've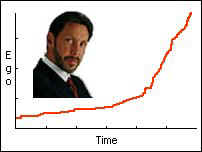 seen so far this year. The VA Linux IPO was huge but this surpasses even that," Finley added.
Programmers at Oracle have tried to fit his ego onto one of their databases, but even their latest Oracle8 could not hold it.
"The cover of Business Week was a pretty big rise, but we actually had to widen the entrance to his office to get this head through the day after he passed Gates," said Executive VP Bob Stubley.
Short sellers of Ellison's ego have taken a beating recently. "We didn't think it could get any bigger, but it just keeps growing. We've paid women to turn him down, to try to deflate it, but nothing seems to work."
With the Justice Department proposing a break up of Microsoft, analysts expect the growth of Ellison's ego to continue at this torrid pace. Ellison's ego trades on the NASDAQ under the symbol of EE.