Somewhere in California - At 8:30 PDT with the release of Snoopy Linux 2.1 and Goober Linux 1.0, the number of Linux distributions finally surpassed the number of actual Linux users.
"We've been expecting it for some time," Merrill Lynch technology analyst Tom Shayes said, "but this is a little sooner than most expected. We've seen explosive growth in the number of Linux distributions, in fact my nephew just put out Little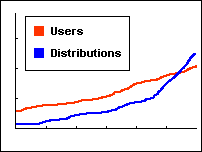 Tommy Linux 1.1 last week."
Long time Linux guru Bob Tallman said, "This is great for the open source movement. I have 7 different versions installed on my computer at home. Some guys I know have over 30."
Microsoft CEO, Steve Ballmer said, "Microsoft will have to play catch up with the number of versions that Linux has, but we think we can do it. With the break up of Microsoft imminent that will instantly double the number of Windows versions available."
Microsoft also announced the release of Pocket PC for Workgroups, Windows GT special edition and Windows 2000 - the Director's Cut with special code added by Bill Gates himself that wasn't in the original release.