Washington D.C. – President Bush announced that by 2008 all government computers should be protected from outside attacks by the faith-based firewall called Protection From Above (PFA) from Houston-based software developer Christisoft.
"For too long we have turned to proven software companies with expertise in computer security for protection, now our computers will be protected by the power of prayer at a much lower cost to taxpayers," said Bush.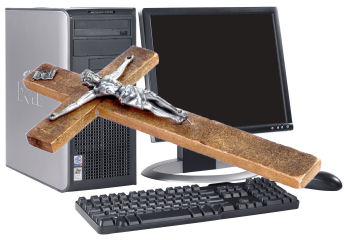 Estimates show the US government spent $1.2 billion dollars to secure their computer systems at various agencies, which many Republicans think is an indulgence the government can't afford.
"With the faith-based firewall and other faith-based security software from Christisoft we could save billions over the next ten years. That's money that can be returned to the most generous of taxpayers," said the President.
Bush also cited doubts about the efficacy "of science-based computer security" though he didn't use that word exactly.
The software requires no installation or maintenance fees, but only a onetime registration fee for unlimited computers.
Joel Osgood, founder of Christisoft, said, "With the one time registration fee, a company's entire network of computers joins our network of computer security prayer specialists. The power of prayer can heal the soul and can also protect you from nasty denial of service attacks and viruses."
Specialists in IT departments at various government agencies said they weren't contacted by the White House for any feedback on the system and they believe the President's decision would be "disastrous" for computer security.
Osgood refuted critics who said prayer can't protect from cyberattacks by saying, "Computers are extremely complicated devices that mere humans couldn't dream of understanding. It takes the power of God to do that."
Any security breaches in the PFA software are countered by a double-prayer guarantee.
Osgood said Christisoft's customer list includes a Fortune 500 company currently being delisted from the New York Stock Exchange.