Orlando, FL – In a galaxy far, far away, Star Wars super fans are losing a hand to ride Disney's newest attraction. Yes, you read that right. In an effort to provide a truly immersive experience, Disney has taken their dedication to realism to the next level, and fans are losing limbs left and right.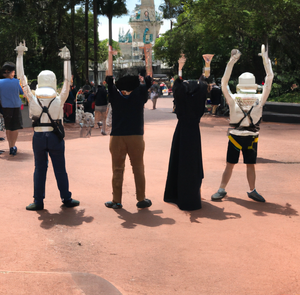 "It's all part of the Disney difference," said one park employee, as they carted off another bleeding customer. "We want our guests to feel like they're in the Star Wars universe, and what better way to do that than chopping off their hand."
Apparently, the ride is a big hit among fans, who are lining up in droves to experience the ultimate theme park thrills. "I've always wanted to know how Luke felt at the end of The Empire Strikes back," said one fan, as he clutched his newly-severed appendage. "It was totally worth it!"
But not everyone is happy about the new ride. "They didn't even use a lightsaber!" complained one super fan on Yelp. "It was just some Disney intern with a table saw." Others were disappointed that they didn't get a cool robotic arm like Luke had in the movie.
As for Disney, they're standing by their decision. "We're just giving the people what they want," said a spokesperson. "And if what they want is to lose a hand, well, who are we to say no?"
In the end, it seems that the Star Wars super fans are willing to do just about anything for a taste of that galaxy far, far away, even if it means losing a limb or two. As one unimpressed Disney guest put it, "At the end of the day, it's still just a ride."
Michael Briggs contributed to this story.