Burbank, CA – In a galaxy far, far away, Star Wars has revealed that the newest Sith villain to grace our screens will be none other than Darth Santis in the new Disney+ series Darth Santis: Fascist Sith Idiot. The choice of name seems to be a deliberate jab at the Governor, who has been at odds with Disney since his election.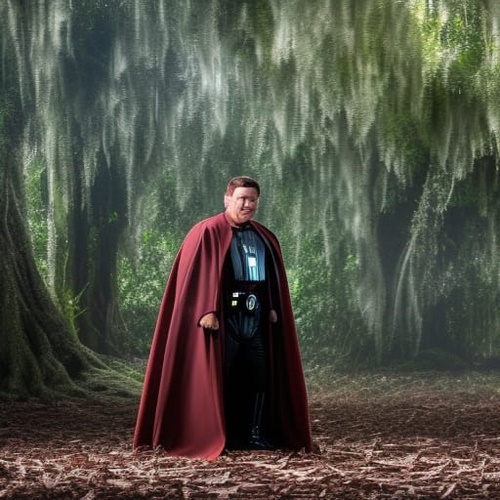 Unlike previous Sith Lords like Darth Vader, who were powerful and feared, Darth Santis will be a bumbling buffoon who tries to do evil things but always fails. In fact, he will be so incompetent that he will be exiled to the swamp planet of Dagobah by the Emperor. His imperial guards will refer to him as "Barf Meatball" behind his back, a name which perfectly captures his ineptitude.
Darth Santis' primary enemies will be a group of LGBT Jedi known as the Rainbow Squad. This group of Jedi is determined to bring justice and equality to the galaxy, and they will stop at nothing to thwart Darth Santis' feeble attempts at evil.
DeSantis has proposed building a prison next to Disney World and has attempted to change Disney's special tax status, causing a great deal of tension between the two entities. However, Disney is denying any connection between the new Sith Lord and the Governor, claiming that any similarities are purely coincidental.
Many Star Wars fans are excited to see this new character, although some are concerned that it may be a little too close to home. However, the creators of the franchise insist that it is all in good fun and that they are simply using current events to create a compelling story.
Only time will tell how Darth Santis will fare in the Star Wars universe, but one thing is for sure: he will be a Sith Lord unlike any we have seen before.  Darth Santis: Fascist Sith Idiot will premiere on Disney+ this fall.