Hollywood, CA – In a stunning move, Disney has announced that they have purchased the rights to produce a sequel to the critically acclaimed film "Everything Everywhere All At Once." Insiders say that the purchase was made to ensure that Disney has at least one good superhero movie in their catalog.
Disney executives were reportedly thrilled with the prospect of having a new superhero franchise under their belt. However, one executive seemed to be a bit confused about what they were actually purchasing. "I thought we were buying everything," said the executive, who wished to remain anonymous. "I mean, the title says 'Everything Everywhere All At Once,' and we already own every other movie franchise so I just assumed we were buying everything. Can you blame me?"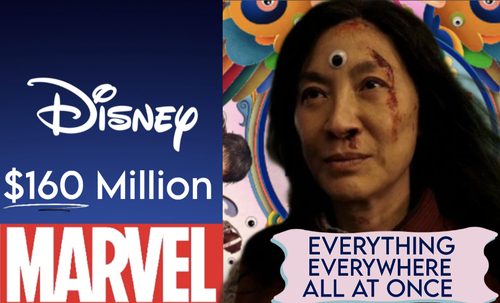 Despite the confusion, Disney is moving full steam ahead with the production of the sequel. The film will once again star Michelle Yeoh, Jamie Lee Curtis, and Ke Huy Quan, and will be directed by the Daniels. Plot details are being kept under wraps, but insiders say that the film will focus on Yeoh's character exploring even more alternate universes and connecting with even more of the lives she could have led.
Some fans of the original film are worried that Disney's involvement could lead to a more formulaic, superhero movie approach. "I loved the original film because it was so unique and fresh," said one fan. "I'm just worried that Disney is going to try to turn it into another one of their cookie-cutter superhero movies, or try to add it to whatever phase they are on in the MCU."
Despite the concerns, Disney seems confident that they can deliver another hit with the sequel to "Everything Everywhere All At Once." "We know how to make superhero movies," said one executive. "We've got this."