Los Angeles - Californians jealous at the media coverage given to recent wildfires in New Mexico and Colorado, attempted to show the country what real wildfires were like. Unfortunately the wind conditions and the fire department did not cooperate and the fires were extinguished by dawn. The police department, however, did get into the spirit of things by offering several of their cars for the attempt.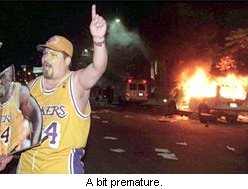 "I'm a little disappointed," said fire starter Henry Wiggums. "The fires in New Mexico destroyed several homes, and thousands of acres. We were only able to destroy a few cars and burn some trash. That's hardly worthy of any major news coverage. If the winds had cooperated then maybe, just maybe, channel 5 news would have come down with a camera crew."
The Los Angeles wildfire barely made that top 100 wildfires of the year, so the chants of "we're number one" heard throughout the evening were a bit premature. "These people were amateurs," said fire expert Ted Stevenson. "I've seen some wildfires in the city, but most occur in densely wooded areas that are experiencing a drought. Concrete buildings and asphalt roads just aren't the right ingredients."
The wildfires however did qualify as a major disaster and satisfied California's new state law requiring at least one major disaster every month. Governor Gray Davis said, "While disappointed our wildfires did not compare to Colorado's or New Mexico's, we are pleased that the citizens of Los Angeles banded together to give us our major disaster for the month of June. Some may say that it doesn't compare to an earthquake or mudslide, but a wildfire is a very worthy disaster."