Rancho Mirage, CA - Former President Gerald Ford is expected to recover fully from a stroke he suffered on Wednesday, said wife Betty Ford, who credited his recovery to the "healing vibes" she is sending out by continually drinking to his health.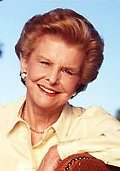 Mrs. Ford, a recovering alcoholic who launched the famous Betty Ford Center for substance abuse, also gave credit to doctors and her husband's stamina, but noted there was nothing that could "get the mojo working" like a healthy highball.
Speaking to Matt Lauer, a co-anchor on NBC's Today Show, the former first lady was questioned about falling off the wagon, an accusation she dismissed.
"Oh no no no, I don't drink anymore, but this is a special occasion!" said Mrs. Ford, scrabbling for and finding a bottle of Smirnoff she had hidden behind a signed copy of Nixon's memoirs on a bookshelf. She offered Lauer a swig, but he refused.
"Now c'mon. Don't be a spoily-woily sport," she admonished, pouting her lips and waving her index finger. "Drink to my Gerry."
"Here's to ya, ya ollllll.... coot!" said Mrs. Ford on her third toast, raising her glass in the general direction of a portrait of the 38th president.
By her 8th toast -- "Here's to my One-Year Wonder!" -- Mrs. Ford announced that her husband was feeling much better. Her next three toasts, directed at an armoire, were unintelligible.
The health-inducing drinking went on until press time, when Mrs. Ford handed Katie Couric a $20 and asked her to "be a good girl" and run down to the corner store for some ripple "so my Gerry can come home."