Silverthorne, CO - After a marathon closed door session with God, atheist Herman Morison remains unconvinced of God's existence. God still believes he exists. Both parties agreed to meet until their issues are resolved.
"I'm prepared to meet with Herman until he's convinced," said God, "Or until he dies on December 3rd, 2024."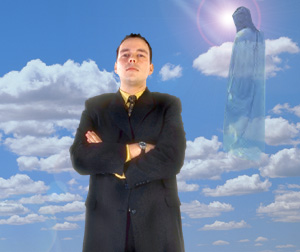 Both participants noted that progress was made, but more work still needs to be done.
"It was a pretty good meeting, but I still have a few unanswered questions," said Herman, "I asked him 'What did the carnivores eat on Noah's ark?' and he said 'that was a long time ago' and mumbled something about the flood thing being blown all out of proportion. God will have to do better than that if he plans on convincing me."
God was more upbeat. "I really think we made some progress," said God, "I could sense him leaning towards believing after I turned him into Charo then into a coffee maker." God also stated that even though Mr. Morison posed some pretty tough questions, he remains steadfast in the belief of his own existence.
"He did some pretty cool tricks," said Herman, "like making the universe disappear and reversing the flow of time, but for all I know he could've had me hypnotized or something. Imagine how dumb I'd feel if I said 'I believe in God' only to find out later that I was just in a trance."
When asked why he didn't just strike Herman down, God just smiled and said, "Violence is not a solution. Anyway, he's gonna burn in hell for all eternity, so why do I care?"