Palm Beach, FL - The recent alarm over the possible outbreak of the Anthrax virus has Florida residents frantic. Over the past few days, communities such as Palm Beach and Sarasota county have reported several cases of Megadeth, and one Miami Beach resident may even have contracted a case of Pantera.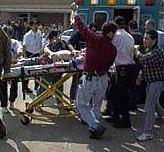 The CDC is stockpiling vaccines for these deadly viruses in the event that things become more serious. Terry Lavine, head of the Florida State Board of Music urged residents to stay indoors, tune their radios to easy listening stations and to report any long-haired "metal" types to their local sheriff.
"I don't want to cause a panic, but I think this attack is intentional and I fear things will get worse before they get better. This could be bigger that Monsters of Metal back in '86. If Danzig decides to go on reunion tour, we may need to call in the National Guard." Lavine said. "Thankfully there haven't been any outbreaks of Metallica since 1991."
Vicki Cartwright of Cartwright Office Supplies was an eye witness to the reported case of Pantera. Her shocking story paints a frightening picture as she watched a coworker suffer the effects.
"I was helping a customer in the notebook aisle when all of a sudden I saw Larry thrashing about in the stapler department. I mean, staplers were flying everywhere, his head was swinging wildly back and forth, and I was afraid for my life. Larry's been known to do some weird stuff in the past, but not since they made him assistant night manager."
Larry (last name withheld until his parents can be located) was rushed to County General where a staff of surgeons set to operate. Luckily for Larry, one of the surgeons was a recovering metal-head who recognized the symptoms.
"We were able to stabilize Larry, but I don't thing we've seen the end of this disturbing trend. I think this is only the beginning. I just pray to God that the Center for Disease Control is developing a Stryper vaccine, or we all could be at risk."