North Pole - Santa announced the organization of a special Elf Tribunal that would determine the naughtiness or niceness of Osama bin Laden and his Al Qaeda Terrorist network. The Reindeer Council opposes the move believing that Santa is overstepping his authority.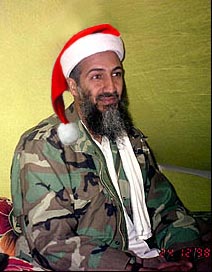 "Santa has gone too far," said Blitzen, "He's used major events like the Cabbage Patch Kid craze to consolidate his power. Santa is making a mockery of the North Pole judicial system."
The Reindeer Council see bin Laden as a freedom fighter. The elves are part of the North Pole Alliance who are at odds with bin Laden and are likely to find him Naughty.
Santa said, "It's within my power to set up the Elf Tribunal. This is the North Pole and I'm Santa, dammit. I can do as I please. Those reindeer are just pissed since I broke the union in 1986."
The last Elf Tribunal convened during the OJ Simpson trial and ruled that OJ had been naughty. Mr. Simpson received a lump of coal in his stocking.
Chief Counsel for the elves, Binter, said, "Elf justice is swift and sweet. If Osama's been naughty then we will have no remorse. I don't see coal in his stocking this year. I see a MISSILEtoe® heading his way."
From a cave near Kandahar, Osama said "This miscarriage of justice will not go unpunished. Snowballs of destruction will fall on the North Pole. I feel I don't have a chance of proving my goodness with an elf tribunal and I really had my heart set on that GI Joe Chemical Warfare Playset."
Other members of the Al Qaeda terrorist network said that being Muslim they didn't celebrate Christmas and were unfairly entered on the Naughty list.