The Rack of Love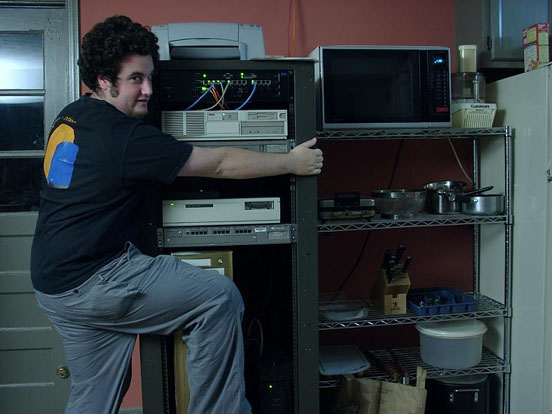 Caption: This is a picture of me and my rack. We go back a long time, well actually, last summer, when I scored it for free from work. I had to slide it down a muddy hill, to get it into my basement apartment. It now holds my server, my two alphas, and my IBM switch (which is one end of the fiber that connects the other side of the place), and naturally I have two Bay Networks hubs which are used as shelving (since the alphas aren't rack mountable). There are many like it, but this rusted piece of steel is mine. It is my raison d'etre.


Judges said: "Not only has this man pulled his rack through the mud - it holds a special place of honor in his apartment - not in some dark, dirty little wiring closet - no no - his rack lives in the kitchen, close the microwave and fridge. He shows the geekiest true love!"
"Classic rack humping!"