Waukesha, WI-- A local sinner learned his lesson the hard way Tuesday, when God took away his vision as a punishment for touching himself, according to neighborhood sources.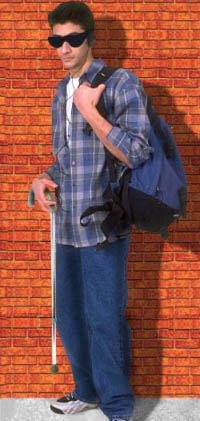 Since childhood, parents and school administrators at St. Mary's School of Our Saintly Mother have repeatedly warned students that they'd be struck blind if they sinned with themselves but sinner Jeffrey Gould, 16, apparently chose to blindly ignore God's warnings and was paid in full retribution for his dirty deed.
"He was obviously an evil child," said Sister Linda Dale, who said Gould's deed was brought to her attention Tuesday, when the blinded teenager joined the class for the first time after recently moving from Connecticut. "It serves him right for sinning."
Jeff has not expressed regret for his actions or said if he could take it all back he would. Either way it's too late for that Jeffrey! Ha ha, you're blind!
And that's not all: Gould can expect the following additional punishments for his abominable act:
40 lashes by the Heavenly Courts.
Withered up sexual organs.
Eternity in Hell with the Sodomites.
Loss of feeling in his right hand.
Sits in the special masturbator section of Church.
Use of handicapped parking spaces.
Excommunication.
Death, instant and painful.
And more!
"What are you talking about?" said Jeffrey, when asked about his awful deed. "I was blinded in a car crash when I was four. What's the matter with you sick people?"
Ho, ho Jeff. If we're so sick, then why aren't WE blind?
"I can't take this anymore," shouted Jeff. "Leave me the f--- alone!"
Uh oh Jeff. You just allowed Satan to enter your mouth. For swearing, Gould can expect the following holy retributions:
Stoning.
Tongue shrivels up.
He will never marry.
Excommunication.
Death, instant and painful.
And more!
The sinner's family could not be reached for comment, as they were probably too busy molesting each other.