Boston, MA -- Citing cancer, child addiction, and a waste of rolling paper, students from around campus gathered in the Harvard University campus quadrangle Friday to protest the existence of the tobacco industry by burning tobacco.
Hundreds of students, of all ages and races, gathered together with cigarettes in hand, to shown a united front against tobacco, and lit their cigarettes on fire in unison. Free cigarettes were given out to all participants who wished to burn them.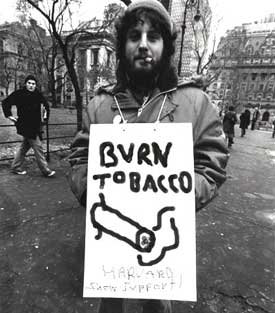 Harvard student displays a "Burn Tobacco" sign, as he burns tobacco and inhales deeply to speed up the oxidation process of both his cigarette and his politcal message.
Organizer Timothy Raul opened the rally by calling for everyone to help speed up the burning process by placing the flaming cigarettes in their mouths and inhaling deeply.
"It's for such a good cause," said Raul, inhaling deeply and thereby emphasizing the political statement. "Hopefully, this will wake up others as to the dangers of smoking and may lead to a banning of tobacco altogether."
"The fight doesn't end today," shouted Raul to the crowd. "You must take a 24-hour a day stand against tobacco if we want to win this war.
"I urge you all, when your cigarette is done burning to please use the remaining cinders of tobacco to light up a fresh cigarette, that way we can use tobacco against itself on the way to beating this thing."
Already, the movement has caught on. In Boston alone, two-thirds of the entire population set fire to their cigarettes while inhaling deeply, thus speeding up the burning process and showing their disgust for the tobacco industry.
Sociological professors at Harvard's esteemed Socio-physical Health Studies program also think the rally's deep messages are a good idea and hope that it will help to lower the rising numbers of children under 18 who smoke.
"The message will be even more effective if we can convince teenagers to pressure otherteenagers into feeling that it's cool to burn tobacco and show your displeasure with it," said Dr. Michelle Lyones-Trafalger, Phd., dean of the department. "Certain types of peer pressure are good and this certainly falls into that category."
In a surprise response press release from tobacco industry leaders, companies including Phillip Morris and Paine-Burnbank said that they "fully encourage students to continue their demonstrations and urge others to follow their lead by burning more cigarettes."
If you're faced with an addiction to a more serious substance, you can find a teen drug abuse treatment center staffed by professionals who are trained to handle young people overcome dependency.